Keywords are words or phrases people typed on the search box of the browser, searching for information on products or services.  Keywords are important in your content for website ranking and traffic. This is how the search engines know what you are about and who they should send to your website. If you are a blogger or online marketer, you need to create contents that your audience is searching for.  You need to have the best keyworks in your contents to attract traffic to your site.  The best keyword research tool will do this and many more functions.
Welcome to the Jaaxy Keyword Research Tool Review!
Jaaxy Keyword Research Tool Review

Products Name: Jaaxy Keyword Research Tool
Website: URL
Price: Free trial for 30 searches, $49 monthly (Pro), $99 monthly (Enterprise)
Owners: Kyle and Carson of Wealthy Affiliate
Overall Rating: 95 out of 100
What is Jaaxy?
Every time when we want to search something on the internet, we type some words on the search box and Google will predict and display a lists of words that other people have searched for previously. Those words are keywords.
The Jaaxy keyword research tool compiled all the data from these searches and group them into useful information. We can use this tool to find out which keyword is being used the most, how much is the traffic, how many competitors and other information.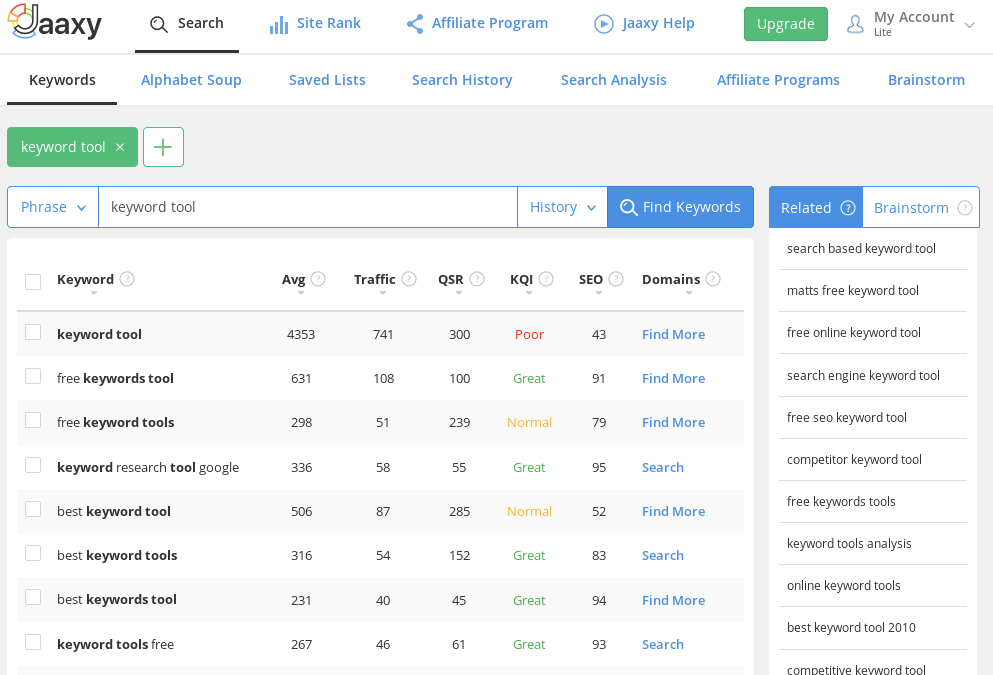 If we typed in 'keyword tool' into the search box, the result is shown above.
Avg – The average number of searches that the keyword receives per month
Traffic – Visits to your website if you achieve first page ranking in search engines.
QSR – Quoted Search Results: The number of competing websites with exactly the same keyword
KQI – Keyword Quality Indicators with colors: Green is great, Yellow is normal, Red is poor.
SEO – A score based on traffic and competition (1-100, higher is better)
Domains – availability of domains like .com, .net, .org
Besides the keywords search, Jaaxy research keyword tool has a lot more functions.
Alphabet Soup
Saved Lists
Search History
Search Analysis
Affiliate programs
Brainstorm
Site Rank
Alphabet Soup Tab
Jaxxy's alphabet soup feature is a great function to search for long phrase keywords.  It finds all kinds of keyword by going through the entire alphabets (see images below).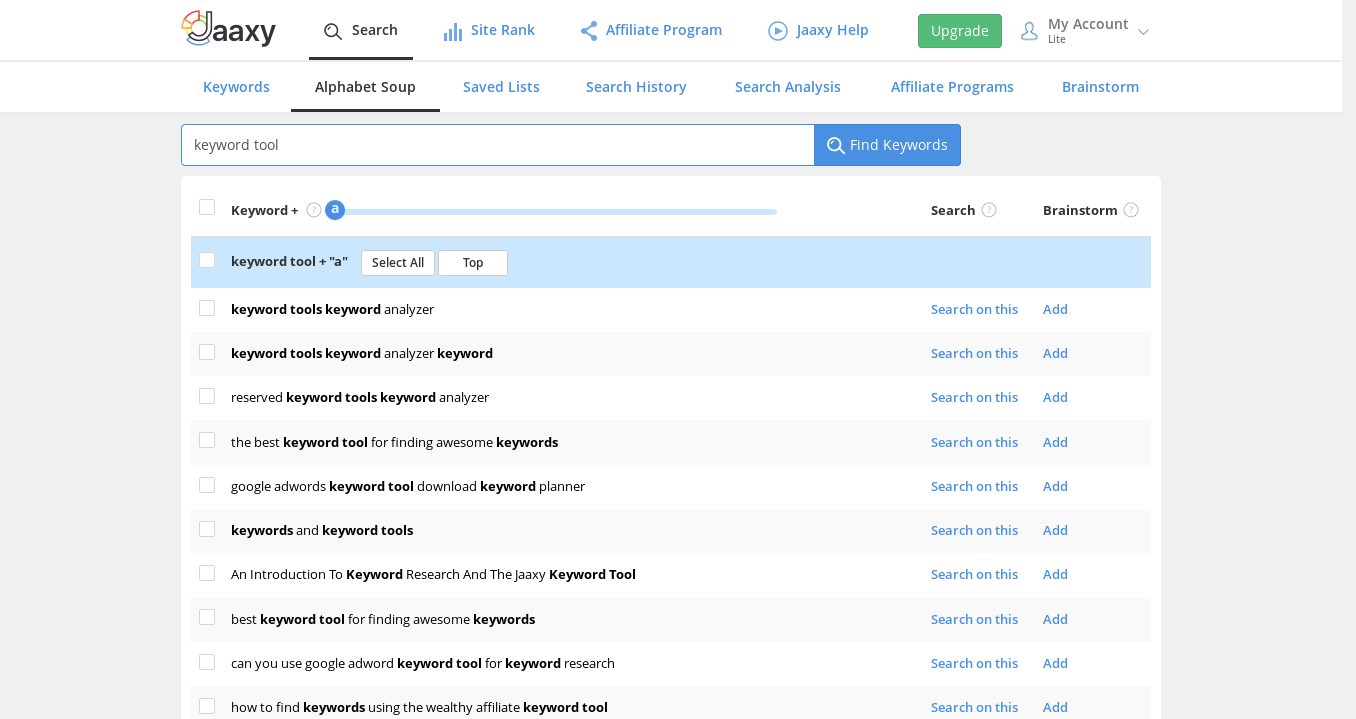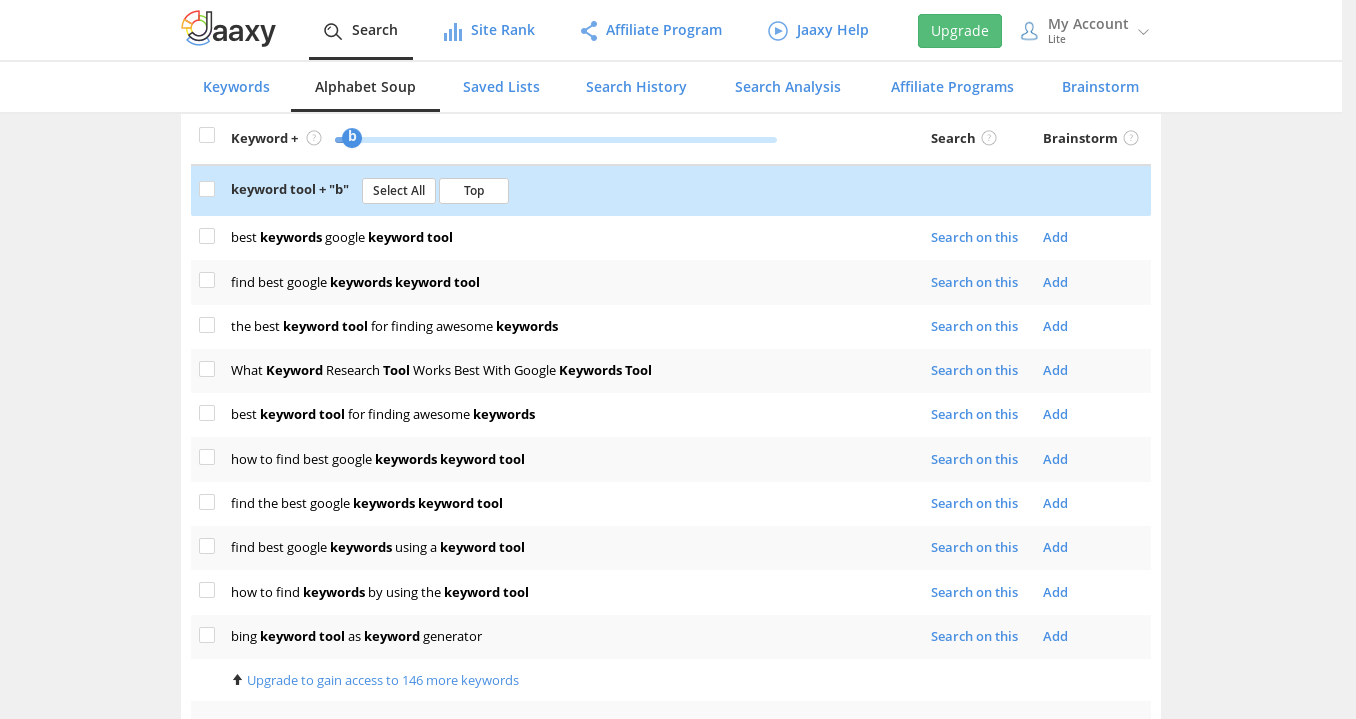 Saved List Tab
You can use the saved list feature to save and organize those keyword phrases that you could use in future articles.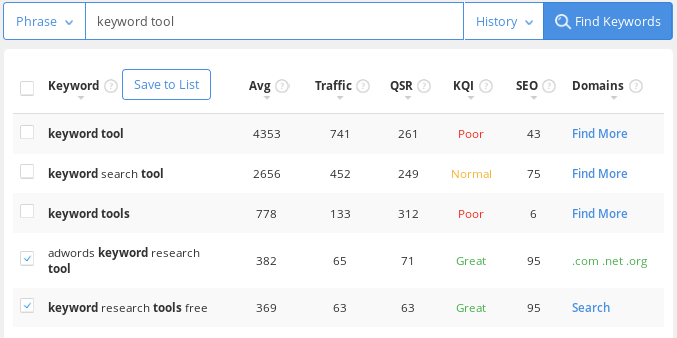 Search History Tab
Sometimes when you start searching a particular keyword, you tend to look further into many other keywords or phrases that you forgot your original keyword. The search history feature will help you retrace those searches.
Search Analysis Tab
It is always beneficial to see what your competitors are doing. The search analysis feature shows you the top ranking posts with the same keyword in Google, Bing and Yahoo.
On top of this, you can click on 'details' to see more information like the word counts, links on site, back links, Alexa rank and if they are running Adsense.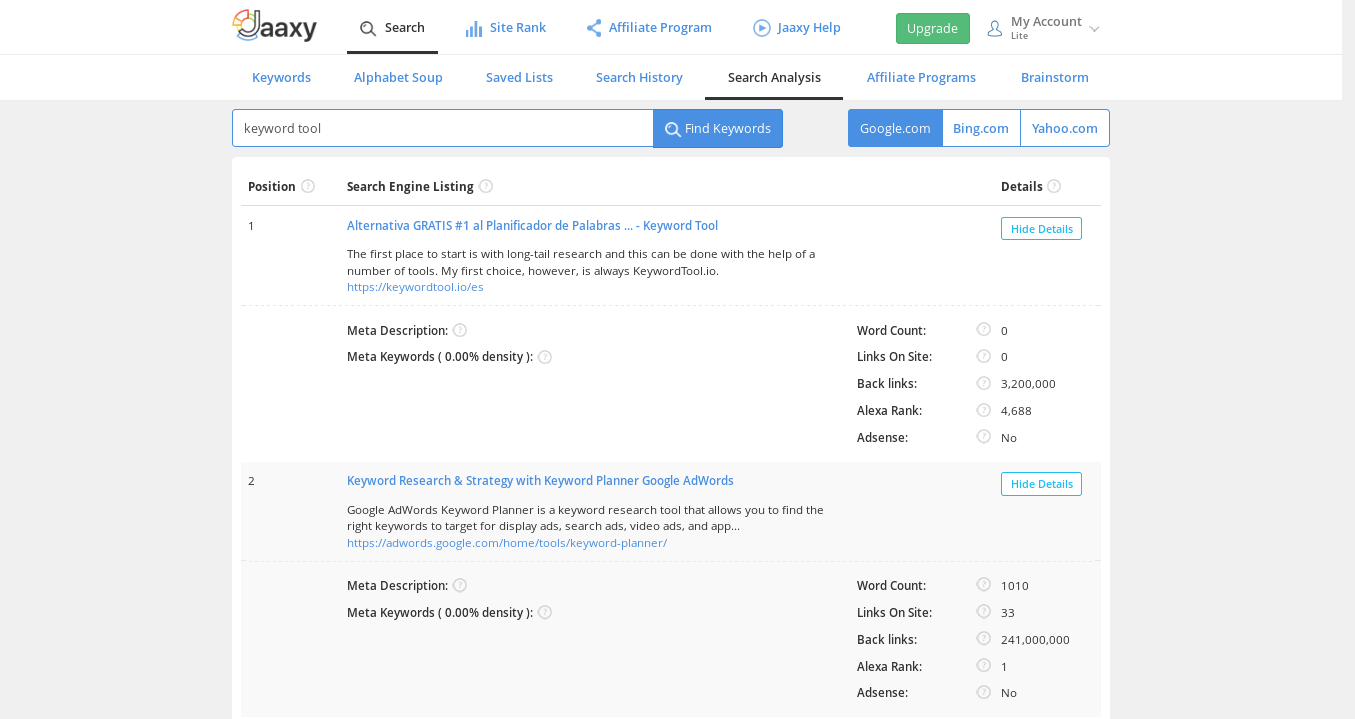 Affiliate Programs Tab
Another great feature of Jaaxy, the affiliate programs allows you to find affiliate programs related to that keyword.
Brainstorm Tab
Brainstorm is another cool feature of Jaaxy to find trending keyword across Google trends, Alexa topics, Amazon best sellers and Twitter.
Site Rank
Site rank is a very useful feature for tracking how well the keyword is performing.  You search the ranking by the keyword and the domain, Jaaxy calculates and show where your post is ranking on Google, Bing and Yahoo.
Jaaxy Membership Options
Jaaxy Pro is $49/month and Jaaxy Enterprise is $99/month.
If you are a member of Wealthy Affiliate, you pay $19/month for Jaaxy Pro and $49/month for Jaaxy Enterprise.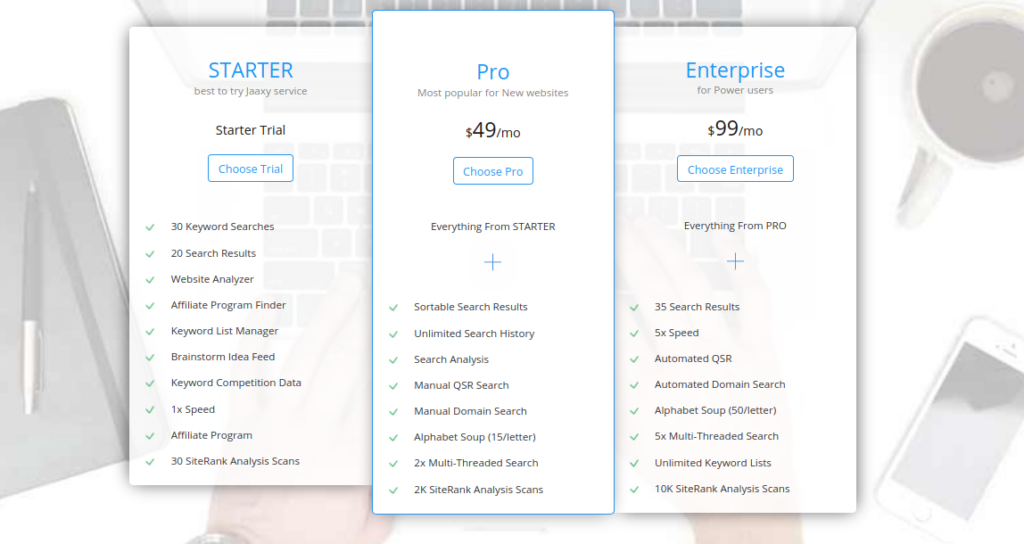 Jaaxy Affiliate Program
Jaaxy has an affiliate program, of which you can benefit.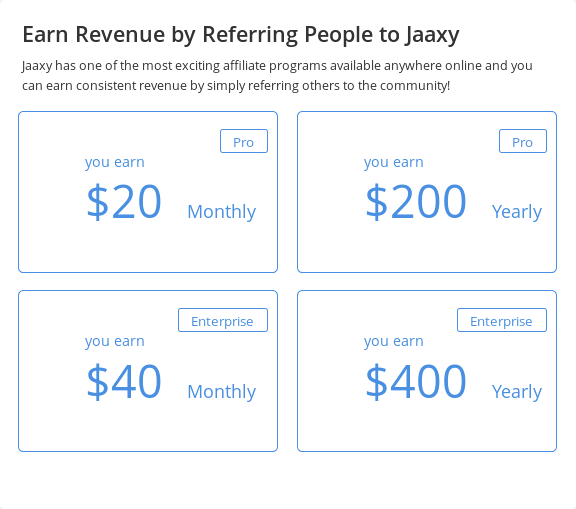 Start Finding Keywords Using Jaxxy!