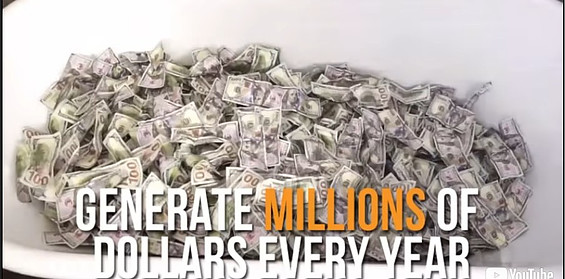 Welcome to my 30 Days Success Club Review !
This is a new product launched recently in July 2018. It is one of the Clickbank products, that claims to earn money fast online. Their sales video mentioned that you'll be able to generate millions of dollars every year!
Review Summary
Product Name: 30 Days Success Club
Website: 30daysuccess.club
Price: $37 + Upsells
Overall Rank: 20 out of 100
Is it a Scam: No
Recommended: No
Tired of Scams?
What is 30 Days Success Club?

30 Days Success Club is a program that is suitable for a total newbie thinking of making money online.
This program is based on the affiliate marketing business model that provides its members with a ready built website to sell items. It has a landing page loaded with lots of Clickbank's products.
Affiliate Marketing is selling other people's products and earn commission. You do not need to have your own products. You list other people's products on your website and if someone buys any product through your website, you earn a commission from the owner who owns the product.
What you need to do now is to drive lots of traffic to your site.
How Does 30 Days Success Club Work?
30 Days Success Club involves selling Clickbank's products. So, to start with you have to register a Clickbank username and you will need to purchase a domain name for your website.
After you set up your Clickbank username and domain name, you will be directed to set up your website. This is an easy step, you just need to input your data into the website builder software. Your website is created with lots of Clickbank products ready for you to sell and earn commission.
When a visitor to your website click on any product, it will be directed to the vendor's website. If that visitor make a purchase, you will make a commission.
Some products inside the ready built website offer free stuffs. Those companies want people to try their products and they are giving out freebies. You will earn a commission whenever someone signed up for the offer or make a purchase.
What you have to do now, is to drive lots of traffic to your website.
It is not easy to drive traffic to this website. You cannot use SEO (Search Engine Optimization) to drive traffic as you have no contents and you are unable to do anything to your website like adding keyword rich blog post.
There will also be a problem using paid advertising as Google or Facebook are unlikely to approve any ad using this kind of website.
The only way to get traffic is to post your website link on forum and social media.
Even if you have traffic to your site, there is no content and no landing page. When your visitors arrived at your site, they are not directed to any specific landing page for the information they are looking for. They are actually directed to a page with all the products and services. They will have to search through the page to look for the products or services. This will drive some visitors away as it is difficult to find what they want.
The Pros & Cons of 30 Days Success Club
Pros:
Ready made website loaded with products or services to sell.
Cons:
Cannot make any changes to website.
No keyword rich or engagement content to drive traffic.
No specific landing page for specific products or services. This will lead to low conversion rate.
Upsells
– $47 for 3 additional websites
– $47 for Heatmaps
– $37 for email compatibility
Will You Make Money with 30 Days Success Club?
It is very unlikely that you will make money from 30 Days Success Club. It is using similar strategy like e-Com Profit Sniper business model which never work well!
The main issue for ready built website is that you cannot make any changes to your website to drive traffic.
Even you have traffic to your site, chances in converting visitor to customer is slim. Most visitor do not like to land on a page that does not show them the products or service they wanted to see. They will just clicked away and go to another site.
The method they showed you in the free traffic sources are forum posting, social media, guest blog posting, leaving comments and YouTube video. These are not good ways to draw traffic. You have to spend many hours spamming your website URL to these places.
You need to buy upgrades if you want more than one website.
If you want email follow-up, you will need to pay for the upgrade.
Another upgrade is the Heatmaps that enables you to get analytic on your website. It will enable you to know what are the products or services that have more clicks. What is the use of this information if you can't change anything on your website?
You might be able to make some pocket money but not thousands of dollars a day, as they claimed possible.
30 Days Success Club do not give you long term stability because you do not own the website and the hosting. If 30 Days Success Club closed down one day and you will lose everything including your website. Even if you have earned money from this site but you have no long term stability. You could lose your money overnight!
The best way to make money from affiliate marketing is to learn how to create your own website on a secure platform.
Is 30 Days Success Club A Scam?
No. 30 Days Success Club is not a scam. They actually give you a website and products to sell.
Theyclaimed that you will make thousands of dollars a day but turns out to be not true. Do you consider this a scam? You be the judge.
I have to say that I do not recommend 30 Days Success Club.
A Proven System That Teach You How To Make Money Online
If you want to learn how to make money online and not too sure how to begin, I want to share with you the proven system that I am using now to build my online business.
You will enjoy the comprehensive step-by-step training, free websites, useful resources and tools. You'll get lots of help and support from the community.
This is free to get started. You can at least give yourself a chance to try the system to see if you want to proceed further.
If you have any questions or comments about 30 Days Success Club, please do not hesitate to leave them below. I would love to hear from you. ?