It is very important for businesses to have a website as their online store front. You can sell your own products by setting up an e-commerce site. You can help others to find products or information that they are looking for through affiliate marketing.
For individuals, it is beneficial to share their career portfolio online. This will help them greatly when applying for jobs or colleges.
Everyone can learn how to build website using the right platform
Even better if you can build your own website for free
Many people have the incorrect understanding about building a website
It is very expensive to build
It will be expensive if you hire someone to build a website for you.  With today's technology, you can easily build a website for free.
Without any programming and coding knowledge, it is impossible to build a website
Yes, long time ago, you need to learn programming and coding in order to build a website.  Today, with the advance technology and website builder, you can easily build a website following simple steps.
It requires lots of time to build a website
Yes, for a website to start generating income, it will require lots of time and effort.  You will learn this as you move along.
But now,  let me show you how to build a website for free with no experience.
Before we get started,  there are 2 main components for a website
1. Web Hosting
This is like the house for your website. Just like us human beings, we have a house to live in.  Same as your website, it needs a house to live in.
2. Domain Name
Our house has an address, so people can find us. The same goes to your website, it needs an address for people to find you online.
Normally, you'll need to pay for web hosting and domain name.
The fees vary among different companies. For hosting, it is around $10/month. Domain name is about $14/year.
I told you earlier that I'm going to show you how to build your website for free.
Yes, it is free!
I am going to show you how to create your website using the Wealthy Affiliate Platform.
I 'll tell you later why Wealthy Affiliate platform is the best for you.
Let's get started…
4 Easy Steps to Build Your Free Websites
Using Wealthy Affiliate platform, you can easily build your free website. Your website will be up and running live in as little as 30 seconds.
The 4 steps are: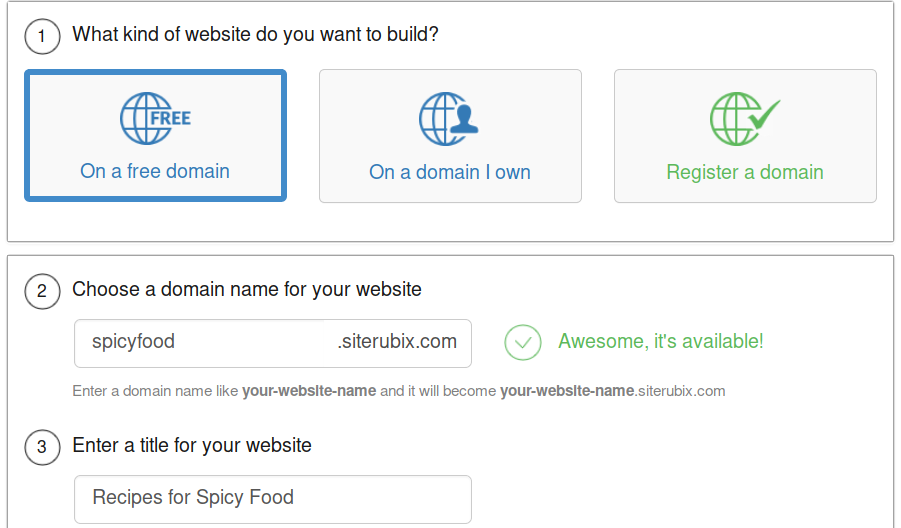 1. What kind of website do you want to build?
Now choose between a free website with free domain or create a website with your own domain. Free members can create 2 free websites. Premium members can create up to 50 websites.
2. Choose a domain name for your website
You would like to choose a domain name that goes well with your niche. My niche is creating an online business and helping people to do the same. I choose onlineincomedeals.com as my domain. Choose one name you like and make sure the spelling is correct. You can't change your domain name once it is registered.
For free website, you are using the subdomain. Your domain name will look like YOURDOMAINNAME.siterubix.com instead of YOURDOMAINNAME.com.
You can always switch to a paid domain name in the future.
3. Enter a title for your website
This is going to be similar to your domain. It can be exactly like you domain name. You'll be able to change this later on.
4. Choose a design for your website
Wealthy Affiliate uses WordPress to build their websites. WordPress is the most widely used platform for creating websites.
There are many website themes for WordPress. As a free member, you can choose from 12 theme choices.
As a premium member you can choose from thousands of themes to fit your website.
Do not spend too much time trying to choose one that is perfect. You can change your theme later if you wish.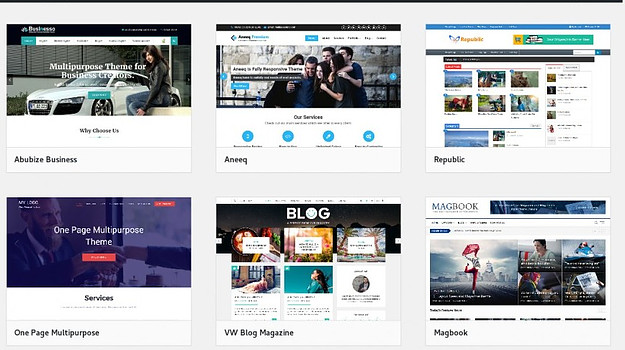 Why is Wealthy Affiliate Platform Good for You?

There are many website building platforms in the market. Some are free and some are costly.
The Wealthy Affiliate platform that I am using now to create my online business  is the best platform with the best hosting to create your free website. You do not need to have any experience in creating website. The step-by-step training will show you how to create your free website, how to gain traffic to your site and how to make money on that.
There is another advantage of this platform is the community support. You can always ask for help when you get stuck.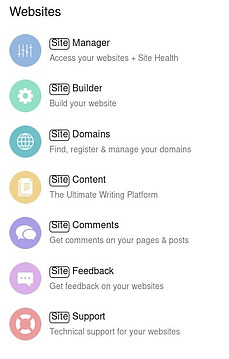 The diagram on the right shows the many features of Wealthy Affiliate website building platform.
Site Manager
You can find all your websites you build at Wealthy Affiliate in Site Manager. As a free member, you can have 2 free SiteRubix websites.
As a premium member, you can have up to 25 free SiteRubix websites and 25 Websites of your own domains.
Site Manager also indicate your website health, helping you to see if your site is running well.
Site Builder
Site Builder is where you build your websites.
Site Domains
Site Domains is where you can purchase your domain name. It is affordable and easy to registered. It includes high sped hosting, domain email, full security and 24/7 support.
As a premium member, you can transfer your other domains from other hosting company to Wealthy Affiliate. You'll save lots of money if you have many websites.
Site Content
This is where you write your contents for your website. Wealthy Affiliate shows you how to write quality content consistently that ranked well in Google search results. High ranking mean high traffic to your website. Traffic is the key to making money online.
Site Comments
Site comments is where other members of Wealthy Affiliate comment on your articles. These are real feedback from real people. Googles loves people engagement on articles.
Site Feedback
If you need some feedback on your website, this is where members of Wealthy Affiliate can help.
Site Support
Site support is there to help when your website encounter problems, like problem logging in, slow loading site etc. The site support make sure that your site is running well.
Well, this is how you can build your free website.
It is live online and you can customize and add content to it.
Now do you find that building your own website is not that scary after all. Using Wealthy Affiliate platform is my best recommendation. You can create a website about your hobby or any topic you are passionate about. You can even make money from it.
If you have any questions or comments about building your own website, please do not hesitate to leave them below.
I love to hear from you. ?