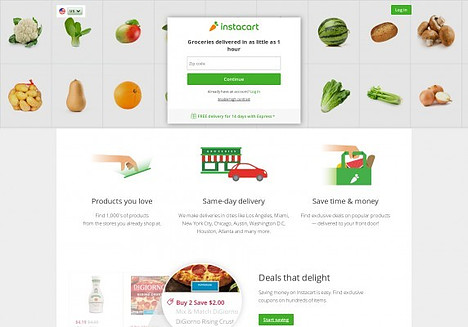 Welcome to my Instacart Review!
Instacart is an American technology company that delivers grocery or pick up from your selected stores. Currently, Instacart is available in the United States and Canada.
Customers conveniently shop for groceries from their selected stores through the Instacart mobile app, Instacart.com or Instacart.ca. There are many retailers partnered with Instacart.
Customers orders are then delivered by Instacart personal shoppers to the customer's place.
You can join Instacart as a customer where you can save the time you spend on grocery shopping to do more important things. If you are looking to earn some extra money to supplement your income, you can join as an Instacart shopper.
The Instacart Review Summary
Product Name: Instacart
Website: Instacart.com
Founder: Founded under Maplebear Inc. in 2012, by Apoorva Mehta, Max Mullen, Brandon Leonardo
Price: Free to join. Available in the United States and Canada only
Overall Rank: 80 out of 100
Is Instacart A Scam? NO
Recommended? YES
Summary: Instacart is owned by Maplebear inc. It is an online delivery company that helps to shop and deliver grocery to you. You order your grocery from your selected stores through Instacart mobile apps.
Tired of Scam……?
Best training program to make money online and it is FREE to join.
What Is Instacart?
Instacart is an online grocery delivery service. It totally changes the way we used to shop for grocery. All you need to do is place your order through the Instacart app. Someone will pick up your order, do the shopping and deliver your groceries to your doorstep.
Instacart works with many local retail stores to provide you with many choices and selection.
To place an order, you simply download the mobile app or go on their website. You search for your products and place your order. An Instacart personal shopper will pick up your order, do the shopping and deliver your groceries to you.
How Does Instacart Work?
You can order your groceries on your computer, iPhone, iPad, and Android devices.
Log on to Instacart website, choose your favorite store and start to order your groceries. Instacart will connect you with a Personal Shopper in your area to shop and deliver your groceries to you.
You can also choose to shop at Instacart and pick up at the store.
Instacart will charge service and delivery fees. The delivery fees depend on the size of the order and the delivery time that you choose.
The price of items on the Instacart are set by the retailers. Some retailer set the price higher on Instacart compare to in-store prices, and many retailers offer Instacart similar in-store prices. It will say on the Instacart website whether you will be paying higher prices shopping through their site.
You will be given the actual receipt from the store when your stuff are delivered to you. So, you will be able to know the difference between in-store prices and Instacart prices. Many people find the difference in prices acceptable. You are having someone to do your shopping and deliver to your door.
Instacart also offers online coupons and sales to save you money.
How Much Is Instacart Delivery and Service Fees?
The delivery fee depends on the size of your order and the time of delivery. The delivery fee starts as low as $3.99. The delivery fee will be shown during checkout before you place your order. In order to avoid paying busy pricing is to schedule your delivery in advance.
If you subscribe to the Instacart Express, there is no delivery fee on all orders over $35.
Below are images from Instacart website showing information on Instacart Express and delivery fee.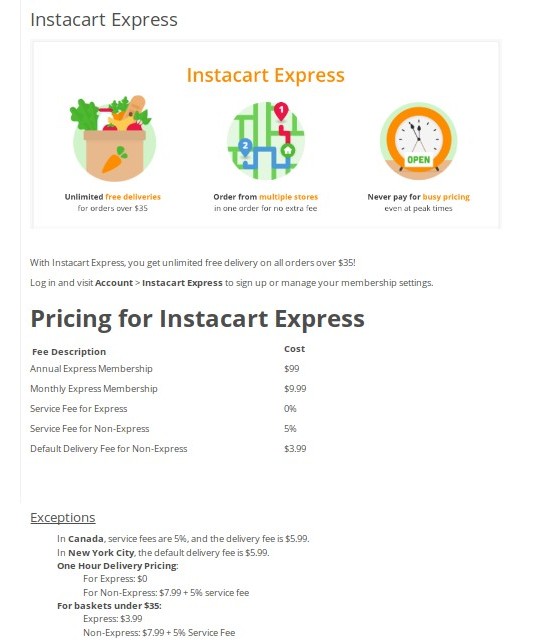 For Instacart Express membership, you never pay for busy pricing and you can order from multiple stores with no extra fees.
Is Instacart good for everyone?
No, Instacart is not for everyone.
Instacart Is For You
If you don't mind someone else shopping for your groceries
If you're struggling to find time to the grocery store
If you don't mind the extra cost of grocery
Instacart Is Not For You
If you like to choose your own fruits and vegetable
If you like grocery shopping, from stores to stores
If you think that the extra cost paying for grocery is not worth it
Pros and Cons of Instacart
Pros
Saving time going to the grocery store
Someone shopping and deliver grocery to you
Better grocery budget
Cons
The extra cost of groceries
Delivery and Service fees
Instacart Shopper might not good at picking fresh vegetables and fruits
Instacart Shopper
As an Instacart Shopper, You'll be shopping for items in the customer's orders and deliver to the address. You've to pay full attention to customer's request. You must communicate with customer if you have any problem getting the items in customer's order.
As an Instacart Shopper, you'll be able to set your own work schedule. You can decide how many hours you would like to work each week.
If you're serious about making money online, I would recommend you to look at this training program for affiliate marketing, which is free for starter member. You'll be surprised by how much you'll learn as a free starter member.
Affiliate Marketing Program, Free for Starter Member
Conclusion
Overall, I think that Instacart provides good online grocery delivery. If you have a tight schedule and need some extra time, you would like to try Instacart. The delivery and service fees are reasonable, consider you have someone do the shopping of grocery for you and deliver to your door.
If you have any questions or comments about Instacart, or you have any experience about Instacart or any online grocery delivery, I would love to hear from you.