Affiliate marketing is one of the easier way to start online marketing business. It is also very popular as a home business. If you haven't heard of affiliate marketing, you must be wondering
What is Affiliate Marketing and how does it work?

Affiliate marketing is a process to promote other people's product or services on your website by using an affiliate link provide by the merchant.
In affiliate Marketing you provide customers to somebody's products. You look for customers online through your website and the merchant provides the products. If your customers make a purchase through your site, you earn your commission. The amount of commissions varies with different companies, products and services.
For affiliate marketing, there is no inventory or shipping to worry about. You are actually selling other people's products and make money on every sale.
You can choose to promote anything you like. Any products or services that can help others solve their problem will be a good choice. There is great potential in this business. If you are willing to learn the skill for affiliate marketing, you will be surprised to see what you can attain.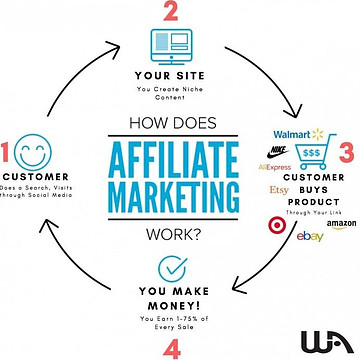 The above program shows how affiliate marketing works.
You build a website on your niche, hobby or anything you are passionate about. You create the content. In your content you can promote any affiliate products or services.
When customers find your website, interested in your products or services and make a purchase through your affiliate link, you have a sale and you earn commission.
There are many affiliate programs out there. Basically those companies has affiliate program to enable other party to join them for free to promote their products and earn a commission. You will be given a special affiliate link, so the company can track if the sale is coming from you and they can pay you commission for selling their products.
Some companies who employ affiliate marketing are Amazon, EBay, Walmart, Nike
Among all companies, Amazon is by far the biggest affiliate network. When you join the Amazon Associates affiliate program, you'll be able to promote any item that is sold on their platform.
Affiliate Marketing is a win-win-win business 
All the parties that involve in affiliate marketing benefit from the process.
The company or the merchant
The company who sells the products or services has acquired new customers as a result of affiliates' effort. They do not need to spend thousands of dollars into advertisement campaign. They allow the affiliates to promote their products and then paid them when there is a sale.
You – The Affiliate
You earn money not by selling, by providing and sharing useful information to your subscribers and visitors and sending them to company for products or services. You do not need to create the products, keeping inventory, shipping and after sale customer service. You just need to get subscribers and visitors.
The Consumer or Customer
The customers benefit from the products or services that are helpful to them and solving their problems.

Pros and Cons for Affiliate Marketing
Like other form of internet marketing, affiliate marketing has its pros and cons.
Pros
all sales are done online, do not need to phone or meet people
can automate the business
very low start-up cost
no need to be an expert to get started, you learn along the way
do not need to quit your job, start as a part-time project
spend all your time on yourself, do not need to train others
do not need warm markets like friends and relative to sell to them
no selling, just by sharing and providing useful information
many affiliate marketing program do the work for you, you just learn how to generate traffic to your website
no customer service is required. All post-sale query handled by the merchant
can scale up with paid advertising, increase sale quickly
learn skills that can create your own products and market them
can promote anything you want
generating passive income. Earn money while you sleep
Cons
have to learn online marketing skill
some level of computer skills
have to follow the rules from affiliate marketing programs
difficult to establish customer base
If you don't treat it like a business, there will be no sales
need paid advertising at some time
How to start affiliate marketing ?
1. Build A Website
This is one of the reason that scare many people away when they think of building a website. Actually building a website is not that difficult. I know nothing about building website when I get started. I learn how to build my 1st website from this course.
2. Create Contents
Write your content like you are talking to a friend, be conversational.
Make your posts engaging with useful and helpful information that your visitors would benefit from reading and would like to know more.
Don't sell, nobody like to be sold
Focus on a specific niche topic and become the go-to-place for your niche topic. By doing this, you will be attracting lots of visitors to your site.
You may add in some links to products or services related to your content that your target audience may be interested. When there is any purchase made through your affiliate link, you will earn your commission.
You may write the content yourself or you ask someone to write for you for an affordable fee. There are numerous places online where you can outsource your content. One of the most popular site is Fiverr .
3. Attract Traffic
It is important that you provide high quality content consistently to attract many visitors to your site. This is the only way for you to have free traffic to your site.
More traffic means more visitors and more sales.
You may run advertisement campaigns to generate traffic if you have the budget.
4. Make a Sale
When your visitors find your content helpful and decide to make a purchase through your affiliate link, you earn a commission.
Conclusion
Affiliate marketing is selling other people's products and earn commission with every sale. This is a great way to get started with online marketing.
Affiliate marketing involves
Build a website
Create contents
Attract traffic
Make a sale
If you are interested in affiliate marketing, you'll need to look for a system that will provide you with good training and support. There are many affiliate marketing systems in the market. The one that I am using now to build my online business is Wealthy Affiliate.
A Proven System That Teach You How To Make Money Online
If you want to learn how to make money online and not too sure how to begin, I want to share with you the proven system that I am using now to build my online business.
You will enjoy the comprehensive step-by-step training, free websites, useful resources and tools. You'll get lots of help and support from the community.
This is free to get started. You can at least give yourself a chance to try the system to see if you want to proceed further.
I hope you have found the information helpful and now you have a better understanding of affiliate marketing.
If you have any questions or feedback, I'll like to hear from you ?