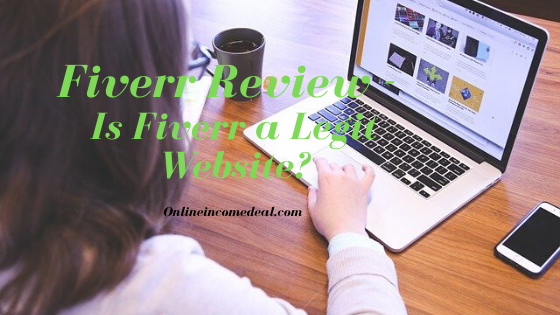 Fiverr is an online marketplace for buyers and sellers to buy and sell services. Many people are asking the question, " is Fiverr a legit website?" We will be going through their services and show you how it works.
Anyone can sign up with Fiverr as buyers or sellers. Fiverr website offers a variety of services which includes
Computer programming
Graphic Design
Digital Marketing
Writing
Translation
Video
Music
Business
The Fiverr Review Summary
Product Name: Fiverr
Website: Fiverr.com
Founder: Micha Kaufman and Shai Wininger
Best For: Buyers and Sellers
Overall Rank: 80 out of 100
Is Fiverr A Scam? NO
Recommended? YES
Summary: Fiverr.com is an online marketplace where buyers go there to buy professional services. On the other hand, Fiverr.com is an online space for gig workers or freelancers to sell their services in their specialized fields.
What Is Fiverr?
Fiverr is the largest online marketplace for digital services. It was founded in 2010 and based in Jerusalem, Israel.
Fiverr enables buyers to search for freelance digital services and sellers to offer their professional services. This is a place for freelancers to sell their services and earn money.
There are a variety of digital services offered at the site. Some of them are logo design, web design, voice-over, video and animation, graphic, social media, writing and translation, business.
Fiverr's services fee starts at $5 and goes up to thousands of dollars for certain large projects. A service offered on Fiverr is called a Gig.
How Does Fiverr Work?
Fiverr only allows registered users to use its services. Whether you are buyers or sellers, you have to register an account.
It is free to sign-up.
How To Use Fiverr as A Buyer
As a buyer, you can browse through the catalog in a variety of categories. When you found a category, you select the service you want.
Fiverr offers thousands of freelance services.
You do not need to own a business to use Fiverr services. Anyone can use Fiverr services.
You can use Fiverr service to prepare your resume and cover letter for job application, to create a video for someone's birthday, to do a translation, and many other tasks you can think of.
They are many freelancers available to provide their service to you. The fee charged by the freelancers are not the same, it depends on their experiences.
For those freelancers who are new to Fiverr will normally charge less until they acquire more experience.
When you are ready to place order
Type in what you want in the search bar. For example, you want someone to design a Logo for you. You typed in 'logo design' in the search bar and you see the following page.
If you want to be more specific, you can select a category for the logo, like business cards, social media, website etc.
Next, you select the logo style. You can have it done in Freestyle, 3D, Vintage, Mascot, Signature, Hand-Drawn, or Watercolor.
Now you choose the Sellers base on the Seller level, the language seller speaks, and where the seller lives.
You can set your minimum and maximum budget. How much you wish to pay for the service.
Lastly, the required delivery time.
Now you have found the Gig you like.
What's next?
Read through the service description, and their pricing. Some will provide a sample of work. It is good to read through customer reviews about them.
It is always advisable to contact the seller before placing your order.
Once you have found what you want, simply proceed to the ordering page.
Does Fiverr charge a service fee?
Yes, there is a service charge. On purchases of $40 and less, there is a $2 service fee. 5% service fee on purchases above $40.
This fee is to help Fiverr maintain their platform and their 24/7 customer service.
How To Use Fiverr As A Seller
There are many ways to make money online and one of them is selling your services on Fiverr.
Anyone can use Fiverr to sell their services and earn money.
If you have a skill that you think you can help people, you can make money on Fiverr.
It is free to join Fiverr. You can browse through the categories and see what other sellers are selling on the platform. Then you can decide what you can sell.
As a seller, you have the option to choose your own starting price point. You can also offer your Gig packages which include different services to the buyer at different prices.
As a seller, there are a few important points to take note:
You need to have a complete seller profile
You need to describe your services in details and be accurate
You need to make sure that your work samples show your skills accurately
When your buyers are happy and satisfied with your services, you will get a good rating from them.
With good ratings, you will get many buyers for your services.
How To Get Pay As A Seller
When buyers purchase your service, they will pay Fiverr when they placed their order.
After the job is completed and delivered to the customer and the customer accepted it, you will get 80% of the total order amount. Fiverr keeps 20% of the total order amount as their service fee.
For example, if your order is $10, you will receive $8.
Sometimes you will receive tips from buyers.
In order to increase your earnings, you can offer extra services to customers during the order process.
How Much Money Can You Make?
It depends on how much money you want to make. You are the one who sets your price and hours of work.
In the beginning, when you are new, you make less money due to fewer orders. As time passed, you have more experience, more customer reviews, more orders, and your income increases.
How Often Do Fiverr Pays You?
Whenever your order is completed and accepted by your customer, Fiverr will send you the money. There is no delay in payment from Fiverr.
Conclusion
Fiverr is the online marketplace for buyers to buy services that can help them grow their business. You do not need to have a business to use Fiverr. Anyone can buy services from Fiverr.
It is safe to buy services from Fiverr. When you pay Fiverr for your order, Fiverr will not pay the freelancer until you have accepted and happy with the service.
Anyone who has skills can sell their services on Fiverr. You set your own price for your services. Customers will pay Fiverr in advance when they placed their orders.
When you completed the job and your customer accepted it, Fiverr will pay you. You will get 80% of the total order amount.
Fiverr is a legit website and it is safe to use.
If you have any questions about Fiverr or you have experience with Fiverr that you would like to share with us, please leave them in the comment below. We would be happy to hear from you.