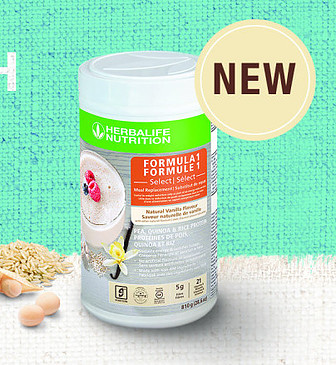 Herbalife is a global company develops and sells health products like protein shakes, weight loss supplements, sports and energy supplements, skin, and hair supplements. All the products are sold through direct marketing. Herbalife has millions of distributors in many countries. You must be wondering if you can make money selling weight loss products. This Herbalife MLM review will show you how it works and what are their products.
The Herbalife MLM Review Summary
Product Name: Herbalife
Website: Herbalife.com
Founder: Mark Hughes, founded in 1980
Price: $94.10 to sign up as a distributor
Best For: someone who is interested to sell health supplements and talk to people
Overall Rank: 60 out of 100
Is Herbalife A Scam? NO
Recommended? NO
Summary: Herbalife is a global company develops and sells health supplements. The products are sold through direct marketing. Those who join Herbalife as distributors will earn commission on the sale of products and recruit team members.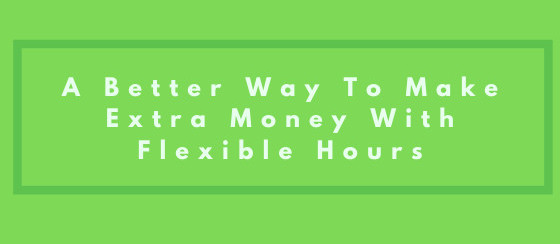 What Is Herbalife MLM?
Herbalife is a global company that develops and sells a wide range of health nutritional products through direct marketing.
Herbalife was founded by Mark Hughes in 1980. Its headquarters is located in Los Angeles, California. It operates as a MLM (Multi-level Marketing) company. The products are sold in more than 94 countries. The company has 8,900+ employees worldwide, and over 4.5 million members and distributors.
Originally Herbalife sells only the weight loss protein shake which helps people to lose weight. More products were developed later on. Other lines of products include sport and energy products, skin, and hair products.
Herbalife's main product is the Herbalife Formula 1 Healthy Meal Nutritional Shake, a soy-based meal replacement shake.
How To Make Money Selling Herbalife Products?
When you join Herbalife as a distributor, you will have your own website. You share your website with others. You make money selling the products to your customers. If someone joins you as a distributor, you will be earning a percentage of their earnings. The more distributors work under you, the higher is your income.
This is similar to other MLM company where you have to sell the company products as well as recruits new distributors in order to make money.
What Type of Products Does Herbalife Sell?
Formula 1 Protein Shakes
Protein Powders and Boosters
Nutrition Teas
Protein Bars
Protein Bites
High protein Iced Coffee
Roasted Soy Nuts
Are Herbalife Products Cost Too Much?
The Herbalife Formula 1 Healthy Meal powder shake cost around $40 for a can of 26 oz. The price varies a bit from different Herbalife store.
One portion of shake is made from 2 scoops of powder, and it is supposed to replace one meal. In order to lose weight, you have to replace 2 meals. That means you need 4 scoops of powder in a day.
According to the customers' review, one can of the powder will only last for 2 weeks.
It actually has many good reviews that many people have lost weight by drinking these shakes.
There are other weight loss products sold in Amazon for lower price. And these products have good reviews that there are effective for weight loss too.
I have to say that there are some comparable products that are equal or better quality and price than Herbalife.
How To Join Herbalife
Herbalife company works the same as other MLM companies. You have to sign up under a distributor. This distributor will become your sponsor. You are known as the sponsor's downline.
After you sign up as a distributor, you can start selling the company products. Your sponsor will earn commission equivalent to a certain percentage of your income.
Besides the earnings from selling the products, you can increase your income by sponsoring other people to join the company as your downline.
Cost To Join Herbalife
To join Herbalife as a distributor, you have to pay a one-time fee of $94.10 USD. On top of that, there is an annual fee of $14.95 for your website maintenance.
You will receive your marketing kit from Herbalife after signing up as a distributor. The marketing kit includes various sample products, brochures, and others.
The cost to join Herbalife is much lower compared with the cost to join other MLM companies like Market America.
There will be other hidden costs such as training fees in order to promote to a higher level.
Can You Make Good Money With Herbalife?
If you want to make good money with Herbalife, you have to sell Herbalife products and at the same time recruit new distributors. You cannot just depend on those distributors that you sponsored to sell Herbalife products. They might not be good at selling those products.
As a distributor, you have 25% discount when you buy the products. You can sell those products at retail price and you make 25% profit.
Whether you can make good money with Herbalife will depend on how good you can sell the products and how much income you gain from your downlines.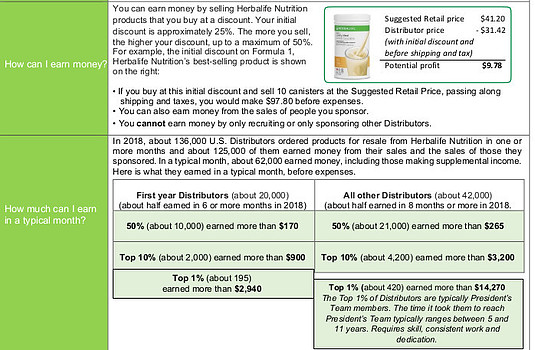 Pros
Flexible Hours – You can set your own schedule. You can either do it part-time or full time.
Low Initial Cost – The starting cost to start this business is low.
No Sales Tools – do not need to spend more for sales tools when sign up.
Members and distributors enjoy 25% lifetime discount for Herbalife product. Distributors earn residual income by sharing Herbalife products with others.
No minimum purchase or auto-ship requirement for distributor, but you have to do some purchase monthly to maintain your distributor status.
Fully Refundable – If you choose to cancel your distributorship, you get a full refund for the unopened products. Herbalife will pay for shipping.
Cons
No Base Pay – You earn your commission from selling the products and from the income from your downline.
No FDA Approval – There is no approval from FDA on these products. But, FDA has inspected these products.
Products Are Expensive – Herbalife products are pricey compare to similar products in the market.
BBB Complaints – There are some complaints about the products and also the customer support.

Lawsuits – There have been a few lawsuits against Herbalife. There is a class-action lawsuit against Herbalife from the distributors. The lawsuits were about the company misrepresent the amount of money they can make. They did not make money, instead, they lose lots of money.
Is Herbalife MLM a Scam?
In my opinion, Herbalife MLM is not a scam. Due to the expensive products, I do not think that it will be easy to sell the products. You will have to spend some money on promoting the products.
The number of lawsuits against Herbalife will make people think twice about joining.
Conclusion
Herbalife is a company that develops and sell health nutritional products. It operates just like other MLM businesses. There is no base salary. It is commission-based. You earn your commissions when you sell the products. You have to continuously recruit new distributors as your downline.
There are other ways where you can earn more money online and work on your own schedule. If you are serious about making money online from home, I would like to share with you a training platform with tools, resources, websites, support, and 24/7 help.
The starter membership is free which includes one free website with hosting, 10 lessons on a certification course, and 10 lessons on affiliate boot camp.