Should you get involve with Get Weekly Paychecks system?
Is it a system that make easy money fast or waste your time and money?
Let see if you can make $500-$2,000 paycheck per week.
Welcome to my Get Weekly Paychecks review!
Review Summary
Product Name: Get Weekly Paychecks
Website: getweeklypaychecks.com
Price: $25/month + MCA Membership fee
($39.90 + $19.95/month)
Owners: Bill Foley & Chez Feenstra
Overall Rank: 10 out of 100
Is Get Weekly Paychecks A Scam? No
Recommended? NO
What Is Get Weekly Paychecks?
This is a program to help people to promote another program known as Motor Club of America (MCA).
What is Motor Club of America?
Motor Club of America is a 24/7 road side assistance service that anyone can sign up for in USA and Canada. They offer services like towing, gas etc for any vehicle, be it cars, vans, motorcycles and others, as long as you are their member.
MCA is a MLM company. It has a compensation plan which members can earn by introducing people to join as member. But, there is no proper training and resources from MCA to help their members run a successful business.
Get Weekly Paychecks is basically a training program which teaches you how to promote MCA successfully.
When you join Get Weekly Paychecks, you can use their sales video to promote MCA, which make your job easier.
How Does Get Weekly Paychecks Work?
Get Weekly Paychecks offers training on how to copy and paste ads in social media. They include pre-designed landing pages for you to promote MCA.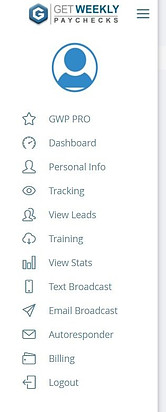 Look at the dashboard of Get Weekly Paychecks. You can see they have other functions to help in promotion.
Get Weekly Paychecks is just a sale funnel for promoting MCA.
The training you get from Get Weekly Paychecks is online advertising skills with 3 simple steps.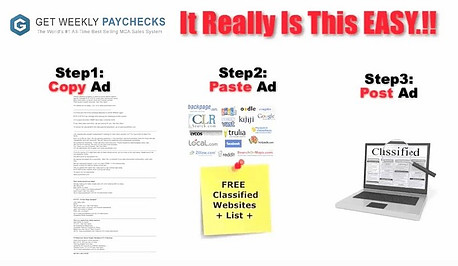 Step 1 – Copy Ads
Choose and copy the pre-designed ads from Get Weekly paychecks.
Step 2 – Paste Ads
Paste the ads you have copied to social media, like Facebook, Twitter, Craigslist and others. Get Weekly Paychecks has some guideline to help you on this.
Step 3 – Post Ads
Last step is to post the ads and wait for subscribers and referrals. For every referral that sign up for MCA, you make $90.
Get Weekly Paychecks told you that you just need to get people to the landing pages and they will do all the selling for you.
This is definitely a simple process. Does it really that simple to make money using Get Weekly Paychecks?
To be honest, it is not easy to get results just by posting free ads on social media. You might get some results if you are prepared to spend money on paid advertisement. You might end up losing quite a lot of money.
Many people tend to fall into this type of program that claims to help you make lots of easy money on a very short time.
Get Weekly Paychecks Pro and Cons
Pros:
Training
Pre-designed landing pages to promote MCA
Cons:
Available only in USA and Canada only

Due to the fact that MCA operates in USA and Canada only, the Get Weekly Paychecks only available in these 2 countries. The greatest advantage of doing online business is to be able to sell products globally. Get Weekly Paychecks has its limitation here.
Promote only one product MCA

Get Weekly Paychecks only promotes MCA membership and nothing else. You are limiting yourself to promote one business only. This is really not easy to make money. For roadside assistant services, there are only so many opportunities out there. Many vehicles come with roadside assistance package. It would be nice if you could promote other car accessories as well.
No free trial

There is no free trial for Get Weekly Paychecks and MCA. To get started, you have to pay $64.90 ( $25+$39.90).
I always tell my readers to try any digital product for free before spending any money into it.
My #1 recommendation is free to try.
No refund

There is no refund for Get Weekly Paychecks.
You do not own anything

You do not own anything from Get Weekly Paychecks. The landing pages they provide you are not yours. If Get Weekly Paychecks shuts down, your whole business stopped. After spending so much of your time and effort into this business, if they shut down, you'll leave with nothing.
Can You Really Make Money with Get Weekly Paychecks?
There is a lot of people promoting MCA and Get Weekly Paychecks online. Offline there are many people promoting MCA as well. You can see the competition is great. In my experience, a lot of people who try to promote MCA online did not succeed.
Yes, you can make money from MCA. You have to be a super sales representative to make lots of money.
The Cost of Get Weekly Paychecks
The cost of Get Weekly Paychecks is $25/month.
Since you need to be a member of MCA in order to promote MCA, you are required to pay another $39.90 for your first month and $19.95 per month afterwards.
So, the total amount to get started is $64.90 for your first month and $44.95 per month afterwards.
Actually many companies are happy if you join their affiliate or referral program. You are helping them to promote their products or services. They are free to join.
Is Get Weekly Paychecks A Scam?
In my opinion, Get Weekly Paychecks is not a scam because it does provide you training and resources to promote MCA memberships.
They are also telling you upfront what you will be getting yourself into if you join.
Get Weekly Paychecks sales video actually explain what you will be doing if you sign up with them.
Thinking about all the people who sign up with Get Weekly Paychecks and using the same landing pages to promote on social media. This is not easy to make $500 – $2,000 a week paychecks for you.
You actually need to spend lots of money on advertisement in order to make that kind of money.
I have to say that I do not recommend Get Weekly Paychecks.
A Proven System That Teach You How To Make Money Online
If you want to learn how to make money online and not too sure how to begin, I want to share with you the proven system that I am using now to build my online business.
You will enjoy the comprehensive step-by-step training, free websites, useful resources and tools. You'll get lots of help and support from the community.
This is free to get started. You can at least give yourself a chance to try the system to see if you want to proceed further.
If you have any questions or comments about Get Weekly Paychecks, please do not hesitate to leave them below.
I will be happy to hear from you! ?