If you are looking to earn some extra money during your spare time, an easy option is doing surveys. There are many surveys sites to choose from, some are legit and some are scams.
What is LifePoints About?
LifePoints is an online market research company. You earn rewards by participating in various activities.
This LifePoints review contains information that you need, so you can decide if you want to join.
LifePoints Review Summary
Company: Lightspeed
Website: www.lifepointspanel.com
Available: Residents in the United States, Canada, and a few other countries. You must be 16 years old or older.
LifePoints is similar to other survey sites like PaidViewpoint, Swagbucks, Survey Junkie, where you complete certain activities in exchange for rewards.
You get paid a small fee for sharing your opinion by doing surveys. Like most surveys, you will not earn a full-time income, but you can definitely earn some extra money.
There are better ways to earn substantial side income which we will look into it later on.
Now, let us look at LifePoints and how it works.
What Is LifePoints About?
LifePoints is created by Lightspeed. It is ranked as the world's largest provider of custom research and analysis, operating across 70 countries.
LifePoints is a community of over 5 million members from all over the world. Members' contribution influences the products and services of businesses.
LiftPoints helps companies gather opinions and feedback from the public about their products and services. This information is gathered through surveys, product testing, and data collection.
Those companies will then use the feedback and information collected from the public to improve their products and services.
LifePoints charge a fee for compiling the information for their clients, and they paid you small fees for completing the surveys.
They have paid $22 million to their members last year.
Is LifePoints Legit ?
Yes, LifePoints is legit. The company that creates Lifepoints has been around for a long time.
It has good reviews from over 4,500 viewers and has a rating of 4.3/5 on TrustPilot.
You will get paid for completing surveys and other tasks.
How To Make Money From LifePoints?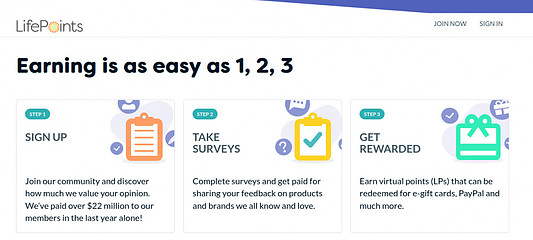 It is free to join LifePoints.
You get 10 points sign-up bonus.
10 points for completing your profile.
These are credited to your reward points.
You will be asked to confirm your email. Once you confirm your email, you will get a notification of available surveys. You can start taking the surveys and earn money.
The number of points you get for completing each survey is different. It depends on the length of the survey.
Those surveys cover various topics.
In some surveys, you will be asked to answer some questions to see if you are qualified.
These surveys are for certain demographics. If you fit into one of the many demographics, you will be qualified for many surveys.
If you are not qualified, you get 2 points.
All LifePoints surveys are conducted online.
Besides surveys, you may get opportunities for product testing. The company will send the products to your home and ask you questions about the product.
How Much Money Can You Make?
Lifepoints surveys range between 10 points to 100 points, depending on the length and types of surveys.
How much money you can make will depend on how many surveys you are qualified for, and how much each survey pays.
How Do You Get Pay
When you have collected enough points, you can redeem for:
Paypal cash
Gift Cards from various company including Amazon
You can also donate your points to charity.
The minimum you can redeem is $5.
The value of one LifePoints point varies, depending on the reward you choose.

LifePoints Is Good For
People who wants to earn some extra money during spare time
People who enjoy sharing their opinion and feedback
Pro & Cons of LifePoints
Pros
Free to sign-up
10 points for sign-up
Easy to use website
Earn points even when you are not qualified for the survey
Cons
Earn points instead of cash
Not many surveysavailable
Not easy to reach customer support
Conclusion
LifePoints has good reviews from their members, you will be able to earn Paypal cash or gift cards.
If you have spare time using your computer or mobile, you will be able to earn some money from it.
You will not earn much from LifePoints surveys, because there are not many surveys available.
If you are looking to earn more money, you have to sign-up for a few survey sites.
Survey Junkie, Paid Viewpoint, Swagbucks and OneOpinion, are a few legitimate surveys sites that pay for your opinion and feedback on various topics.
Doing surveys is one of the ways to earn extra money during your spare time. It is easy and does not require any experience. You will not earn much money or replace your income.
If you are serious about making lots of money that will one day replace your full-time income, there are better ways to do that.
I would like to recommend you to look at this online training where I learn to earn an online income working from home and set my own schedule. The best part of this training is that it is free to get started and you will learn to build your own websites and how to earn money from your websites. You do not need any prior experience. You will learn and earn as you move forward with the training.
Do you think LifePoints is right for you to earn some extra money? Have you tried any other surveys sites?
If you have any questions about LifePoints or questions about how to earn money online, please leave them in the comments below.