Many of us are looking for side hustles to earn extra money online. One of the easier options is doing surveys. This Swagbucks review will show you how to earn Swag Bucks fast.
You can redeem Swag Bucks for cash or gift cards.
There are many online survey sites, beware that not every survey site is legit.
Is Swagbucks a legit site?
Yes.
Swagbucks is a subsidiary brand of Prodege, LLC. A leading Internet and media company. It is a popular rewards program online where you can earn cash or gift cards for completing simple tasks that you are already doing every day, like shopping, playing games, watching videos, answering surveys, and many more.
In this Swagbucks review, you will learn how you can earn money from it and decide if you want to give it a try.
Like many survey sites, you will not earn much from just doing this, but you can definitely earn some money.
Swagbucks Review Summary
Company: Swagbucks
Website: www.swagbucks.com
Owner: Prodege, an internet and media company
Overall Rank: 70 out of 100
Is Swagbucks A Scam? No
Available: most countries in the Americas, Europe and Asia. Available in some countries in Africa.
In this review, you will find out
What Swagbucks Is About
How Does Swagbucks Work
How to Earn Money with Swagbucks
How Do You Get Pay
Pros and Cons
Is Swagbucks A Scam?
What Swagbucks Is About
Swagbucks is a program that you can earn reward points by doing certain activities on the internet. These activities include
Shopping
Searching the web,
Playing games
Taking surveys
Watching Videos
Deals and Offers and many more.
When doing things online, you will earn points called Swagbucks or SB for short. As you are doing more activities and collecting more SB, you can exchange these SB for gift cards from the wide selection of stores available. You can also deposit cash into your PayPal account.
It is free to sign up. Swagbucks has been around since 2008 and many reviews claim that it is a legit program and not a scam. Let's go into more detail about how it works and how you can earn money from it.
How Does Swagbucks Work?
When you complete some activities on their website or use their search engines, you will earn SB.
1 SB is worth $0.01
Sign up process is easy. Just provide your email and your password.
How to Earn Money with Swagbucks
There are many ways to earn money with Swagbucks.
1. Shopping
You will get cashback if you shop at the store through the Swagbucks website. Almost every major online store gives cashback in the form of SB. These include Walmart, Best Buy, Amazon, eBay, and more.
When you are at the shopping section of the website, you will see a variety of stores you can shop at.
Each store that partner with Swagbucks offers a different cashback and has its own terms and conditions.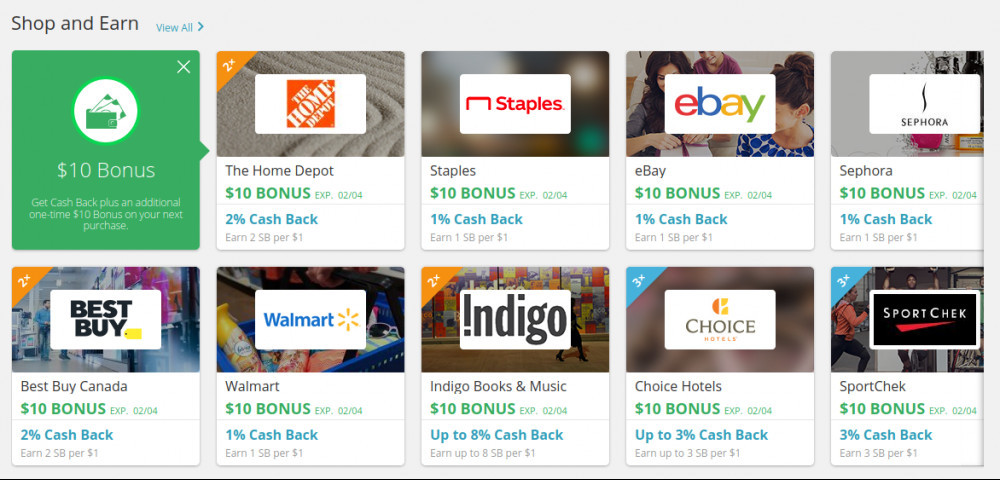 2. Searching The Web
Swagbucks has its own search engine, powered by Yahoo. By using Swagbucks search engine, you can actually earn SB just by searching the web.
Swagbucks rewards are very random. You will get some SB rewards per day if you do a lot of searching.
The rewards range between 4-10 SB is common. There are some users who reported earning up to 100 SB per search.
3. Playing Games
It is fun to earn SB rewards while playing games. It does not matter if you are good or bad at playing games. You earn SB when you make an in-game purchase.
There are lots of games available to choose from. There are a few free games that you can earn SB as well.
You can earn 12 SB per $1 spent on games.

4. Taking Surveys
You probably heard of getting paid doing surveys. At any given time, Swagbucks has a list of surveys available for users to complete and earn SB. In most of the surveys, the payout is low.
The more surveys you do, the more it learns who you are, then the more surveys suitable for you. At the beginning, there will be many surveys that you won't even qualify to do. As you move on, there will be more and more surveys that are suitable for you.

5. Watching Videos
Yes, you can earn money from watching videos at Swagbucks!
The videos are from various partners of Swagbucks. These include music, entertainment, pets, travel, news and many more.
The earning potential is very low, like 1-3 SB for watching videos.
Most of the videos are about trending topics. For those people who like to watch trending topics, this option fit them well. They are earning while doing something that they are already doing.
You will earn extra SB when watching videos on mobile apps. The app is available for free on both Androids and iOS devices.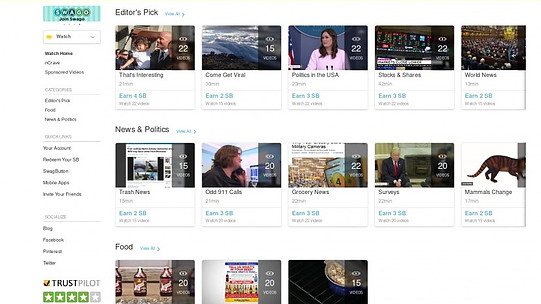 6. Deals and Offers
Every day, Swagbucks posts a poll for its users. You will be rewarded with 1 SB for answering.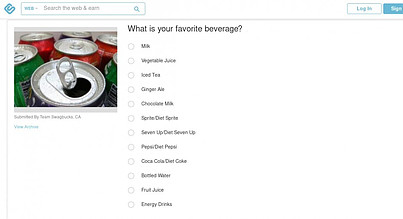 Swagbucks has a section called Discover with lots of feature offers. In this section, you can earn SB either by trying a product, signing up for something, entering a contest, etc.

7. Print Coupons
Print Swagbucks grocery coupons and use them at your local grocery store, you will save money and earn SB at the same time.
Swagbucks has hundreds of coupons available to choose.

8. Swag Codes
Throughout the day, Swagbucks will post a couple of times of Swag Codes on their blog, Facebook, Twitter, and Instagram.
Swag Codes are a string of text that you can redeem for instant SB. It is alive only at a specific time frame.
Each Swag Code is worth a certain amount of SB, Usually 2-3 SB. You can redeem them in the Swag Code box on their website.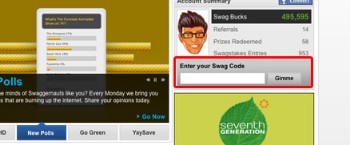 Once in a while, there will be a Swag Codes promotion where Swagbucks will post a bunch of Swag Codes with high values in a single day. It is possible to earn 20-30 SB just from Swag Codes!
9. Join the Swagtakes
Swagtakes are Swagbucks sweepstakes. They are posted at any given time and everyone can join. You have to use SB to pay for Swagtakes.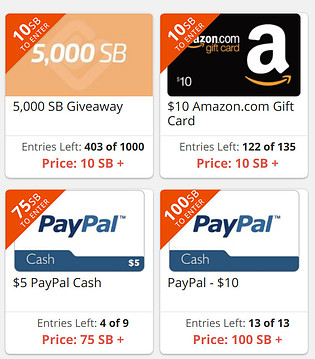 10. Refer others to Swagbucks
When you refer a friend or family to Swagbucks, you earn 10% of all the earnings your referral earns in their lifetime. i.e. If your referral earns 500 SB, you'll get 50 SB.
On top of that, you and your referral earn a 300 SB bonus when your referral earns 300 SB within their first 30 days.
11. Daily Goals
Activating your daily goals will enable you to earn extra SB. You'll have a set amount of SB to earn in a set amount of time to earn them.
If your daily goal is 70 SB, you'll get 7 SB when you achieve this goal.
For the SB you have earned, you can redeem for cash or gift cards. There are many gift cards available, including Amazon, eBay, Best Buy, Walmart, and many more.
You can redeem gift cards from 300 SB to 50,000 SB. You will need a minimum of 300 SB to start redeeming. 100 SB equals $1.
If you prefer cash, you can redeem SB for PayPal cash once you have 2,500 SB.
You may also donate your SB to charities such as UNICEF, Doctors Without Borders, Red Cross, and others.
Swagbucks Pros and Cons
Pros
It is free to join
It has been around since 2008
Referral system is good, potential to make more money
Many varieties of gift cards to choose from
Cons
Available only in certain countries
You will not qualify for every survey.
Slow customer service
Conclusion
Swagbucks is a legitimate website for earning money online. There are many ways you can earn from Swagbucks.
In my opinion, Swagbucks is not a good way to make money online for a living. It is good for those people who just want to make some extra money. For those who already shop online, why not shop through Swagbucks and earn some cash back.
If you are serious about making lots of money that will one day replace your full-time income, there are better ways to do that.
I would like to recommend you to look at this online training where I learn to earn an online income working on my own flexible hours. The best part of this training is that it is free to get started and you will learn to build your own websites and how to earn money from your websites. You do not need any prior experience. You will learn and earn as you move forward with the training.
Do you think Swagbucks is right for you to earn some extra money? Have you tried any other survey sites? You might be interested to learn more about other survey sites like Survey Junkie and PaidViewpoint.
If you have any questions about Swagbucks or questions about how to earn money online, please leave them in the comments below.