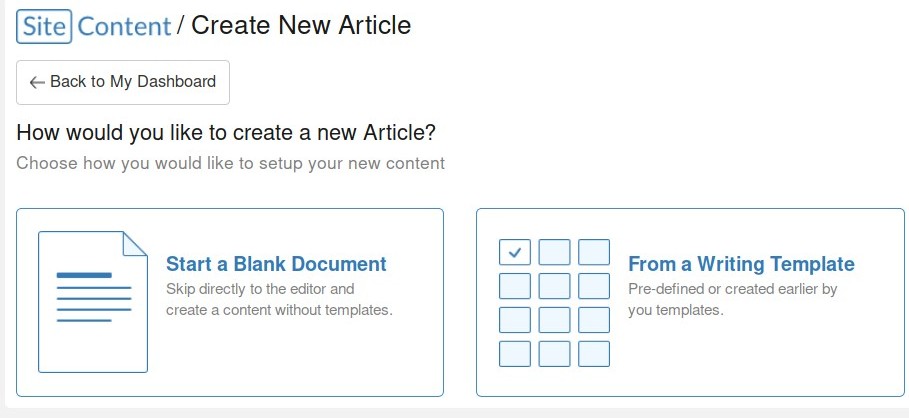 Welcome to my review of SiteContent.
We are always looking for a good content writing platform to write content for our website.
Online content writing with SiteContent is going to be a great experience for many people.
In this review,  I am going to look into the many features and benefits of SiteContent. You will then decide if this is a good tool comparing with other writing platform for you to use for your content writing.
SiteContent Review Summary
Product Name: Wealthy Affiliate SiteContent
Website: Wealthy Affiliate
Price: Free for starter membership
Owners: Kyle and Carson
Overall Rank: 95 out of 100
Recommended? YES
What Is SiteContent ?
SiteContent is a word processing application for writing and posting content for your website. SiteContent is one of the many useful tools created by Wealthy Affiliate available for their members. Contents created in SiteContent will be checked for originality before it is published. This is good for Google SEO (Search Engine Optimization) rankings to avoid duplicate contents.
SiteContent is suitable for anyone writing content for website online.
SiteContent Features and How It Works
Check grammar and spelling, vocabulary suggestions
There is the grammar and spelling check for the content. If there is an error, the correct word or alternative word will be display for you to decide if you want to change it.
Checking of unique content
Upon publishing the article, SiteContent will check it against search engines if the content is unique and original
Sending article directly to website
Ability to sent article directly to any website hosted with Wealthy Affiliate. You don't have to copy your article to WordPress website for publishing. You just need to click on the Publish button, your article will be check for uniqueness and published directly to your website.
You'll be prompted to choose if your article will be published as post or page.
Affiliate disclosure template and Privacy Policy template. These two templates are there for you to add to your website.
You can easily create your own templates for the types of articles you'll be writing.
For example, you can have a product review templates for all your product review articles. So, your product review articles will have a standard format.
SiteContent also keep track of your writing statistics, numbers of articles publish, articles unpublished. The best parts is you'll know how many of your published articles are index in Google.
When your article is indexed in Google, you'll also receive an email from Wealthy Affiliate informing you that your article has been found in Google.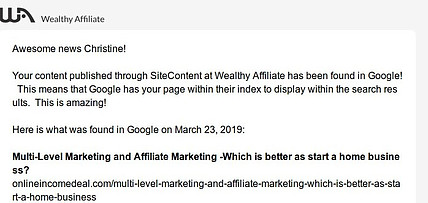 If you are someone who like to set goals for success, you'll like this. SiteContent allows you to set goals for words count and published articles count.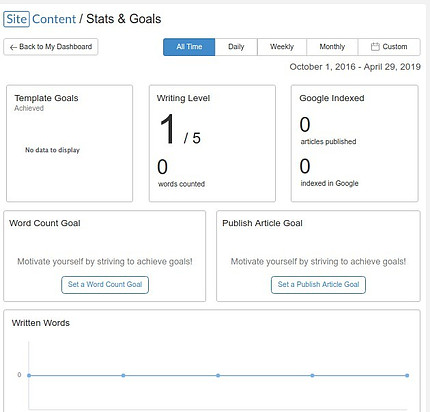 How SiteContent Works
Watch the video for a complete walk through of SiteContent.
SiteContent Dashboard
Writing statistics and writing levels
All-time words written
Articles published
Articles unpublished
Number of articles indexed by Google
Search articles by keywords
Organize articles by last edited or article title, published, unpublished
Every article shown with some elements at the bottom
G. when articles index in Google, the G is displayed in colours
Bucket. For organizing your article in different categories
Circle. Indicate if the content has published. It turned green if published.
Trash Can. Delete the article
Creating and Editing content at SiteContent
To start writing an article, you can choose to start on a blank document or from a writing template.
When you have finished writing, save your content.
While you are writing, the real time autosaved will save your articles. You'll be able to retrieve any revisions if you need them.
The editor has different features for writing your article

H1,H2,H3, which we normally use for headings
p for normal body text
i for Italics
U for underline
Align the sentences and paragraphs, left, right or center
Inserting your links for external link, internal link or affiliate links
Inserting images
Grammar and spelling checker
On top of all the above features, there is also an indicator for word counts.
High Quality Images
There are more than one million images to choose from SiteContent. The best part of this feature is that you do not have to look for images and photos from other website. They are available at SiteContent. I love this feature and it really saves much time in searching of feature images.
You simply click on the image box and enter the name of the image you are looking for. Many images will be displayed, You just need to choose the one that you like. You then crop the image, add a description, align, save and insert onto your content.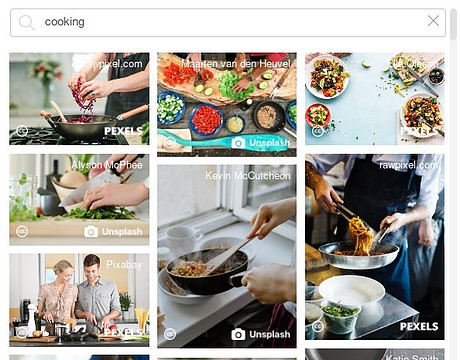 Check Grammar and Spelling
When you have finished writing your article, you just click on the check grammar box. It takes a few seconds to check through your article for grammar and spelling. If there are any errors, it will suggest alternatives.
Check for Original Content and Publish Direct to Website
The article you are going to publish should be original and unique. This is very important because it affects your ranking. The search engines do not like content that are similar to those already published.
When your article are ready for publishing, you just click on the Publish button, the SiteContent software will search the web to ensure that your content is unique.
If SiteContent finds that certain part of your content is similar to some already published content, what you need to do is just a few changes to your content. And this will solve the problem.
Once the SiteContent verify that your content is unique, it will be published directly to your WordPress website that are hosted with Wealthy Affiliate.
The Pros and Cons of SiteContent
Pros
Published directly to any WordPress website hosted with Wealthy Affiliate
Grammar and spelling check
Templates helps in writing process
Choose from one million plus images, personalize images by resizing and cropping
Bucket for organizing categories. This is very useful when you have more articles. You can use buckets to organize them in different categories. This will make it easier to locate a particular article.
Real time autosave articles with revisions. Great feature if you need to retrieve revision and restore
Save draft before publishing
Unique content feature ensures that your article is unique and original to be indexed by search engines
Published article in SiteContent cannot publish again, to avoid publishing duplicate content
Setting daily, weekly and monthly goals increase writing productivity
Cons
Bucket only have one level. It will be more useful if the bucket allow sub-categories
Final Thought About SiteContent
As you can see there are many great benefits for online content writing with SiteContent. I personally love using SiteContent for writing my articles.
I would recommend you to give it a try.
SiteContent is one of the many tools that benefits members of Wealthy Affiliate.
It is Free to join Wealthy Affiliate as a starter member. And you can have 2 free websites with hosting. If you do not have a website, you'll learn how to build one in less than 10 minutes.
Are you ready to try the Wealthy Affiliate SiteContent?
If you have any questions or thoughts, please do not hesitate to leave me a comment.
I love to hear from you. ?