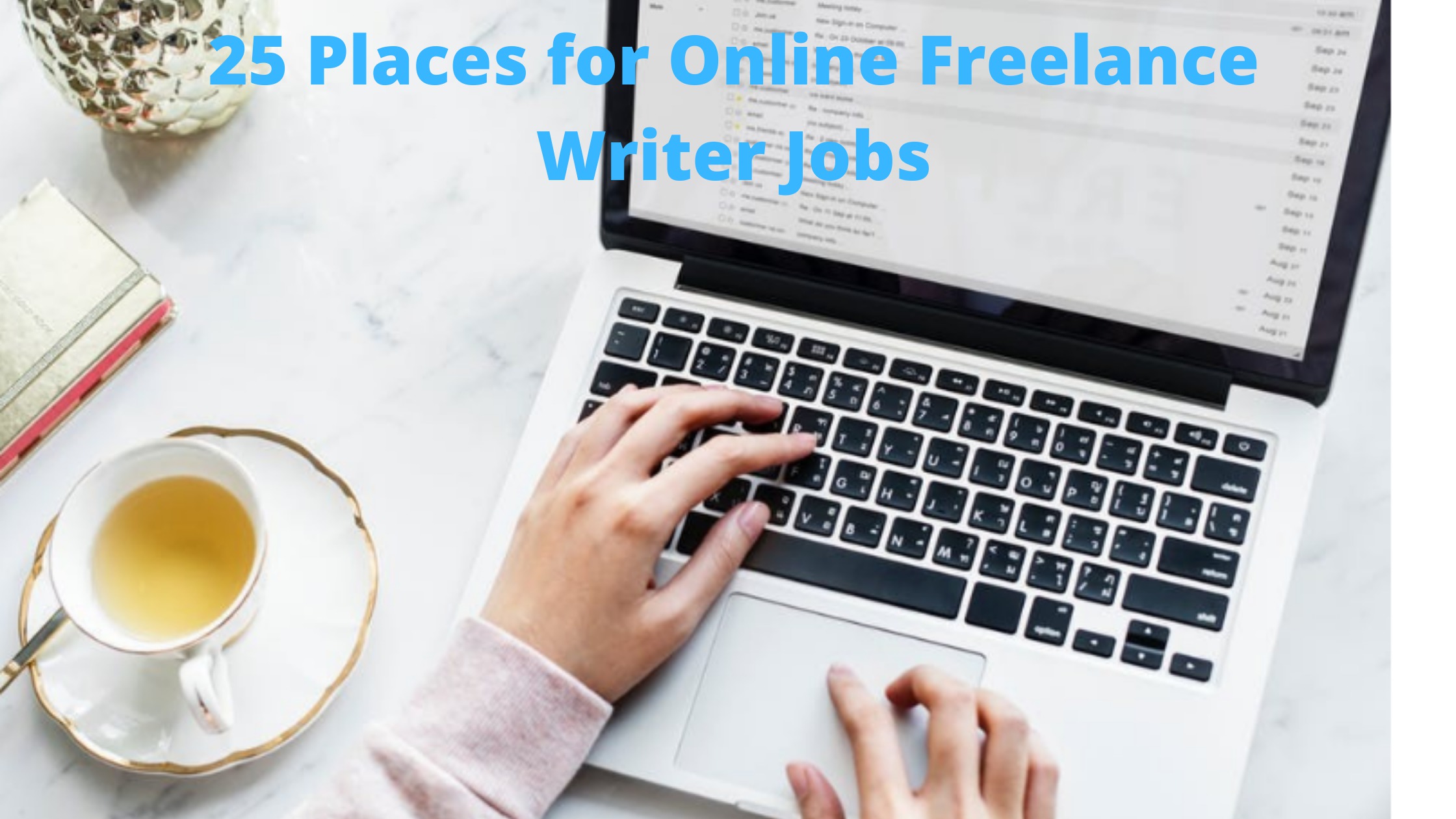 You love to write, you want to be a freelance writer. Now you are looking for freelance writing jobs. Listed below are 25 places for online freelance writer jobs which I find helpful.
The Best way to start freelance writing and earn money fast is to join freelance writing job agencies/boards.
There will be lots of competition, but it is easier in picking up clients. By joining a few agencies will increase the chances of getting writer jobs.
Freelance job boards

Problogger has various jobs available for contract, freelance, full-time or part-time candidates. There are different options for you to choose the right writing job. When searching for jobs, you can enter your niche or keyword and it will show all the matching jobs for you.
Check for job posting here.
The great part about this site is the daily updated jobs. There are different categories of jobs available
Blogging
Content Writing
Copywriting
Journalism
Miscellaneous Writing
Proofreading and Editing
Technical Writing
Check jobs for bloggers here.
Their job lists are updated every day, Monday to Friday. There are various jobs available which includes
Remote Writing Jobs
Online Writing Jobs
Freelance Copywriting Jobs
Blogging Jobs
Content Writing Jobs
Journalism Jobs
Editing and Proofreading Jobs
Paid Internships
Check freelance writing jobs here.
Whisper Jobs also known as ED's Jobs.
Check for available jobs here.
This site displays the pay range for writing jobs. You will know how much you will get paid for a certain job. You can register to receive job leads in your inbox as well.
Check freelance writing jobs here.
This site listed jobs from many job boards, it is easier for you to find the right job all in one place.
Freelance Writing published Morning Coffee eNewsletter for new and updated freelance writing jobs. When you sign-up, you will receive a job alerts for new jobs every morning.
Check for job details here.
Krop concentrates on creative jobs which includes
3D Artist
Animation
Graphic Design
Fashion
Photography
Web Designer
Web Developer
They have copywriter jobs too.
Check copywriter jobs here.
Media Bistro organized jobs from all online sites.
Search your right jobs here.
Freelancer works on bidding format and direct hiring to get projects done.
An employer has 2 options when posting their job
Post the project for all freelancers to bid
Browse through freelancers and offer the project directly
There are various categories of jobs available
Website, IT & Software
Design, Media & Architecture
Product Sourcing & Manufacturing
Business, Accounting, Human Resources & Legal
Mobile Phones & Computing
Data Entry & Admin
Sales & Marketing
Translation & Languages
Writing & Content
Engineering & Science
Freight, Shipping & Transportation
Look for a writing job here.
By registering with Upwork, you will be connected to various job opportunities.
Their jobs categories include
Admin Support
Design & Creative
Writing
Web.Mobile & Software Dev
Accounting & Consulting
Legal
Translation
Data Science & Analysis
Sales & Marketing
Customer Service
IT & Networking
Engineering & Architect
Check here for details.
There are many categories of jobs available for freelancers.
Graphic & Design
Digital Marketing
Writing & Translation
Video & Animation
Music & Audio
Programming & Tech
Business
Lifestyle
As you can see, there are many job opportunities for freelancers. This is one of the popular sites for beginners looking to make extra money. I have written a review about Fiverr, you might be interested.
Check here for more details.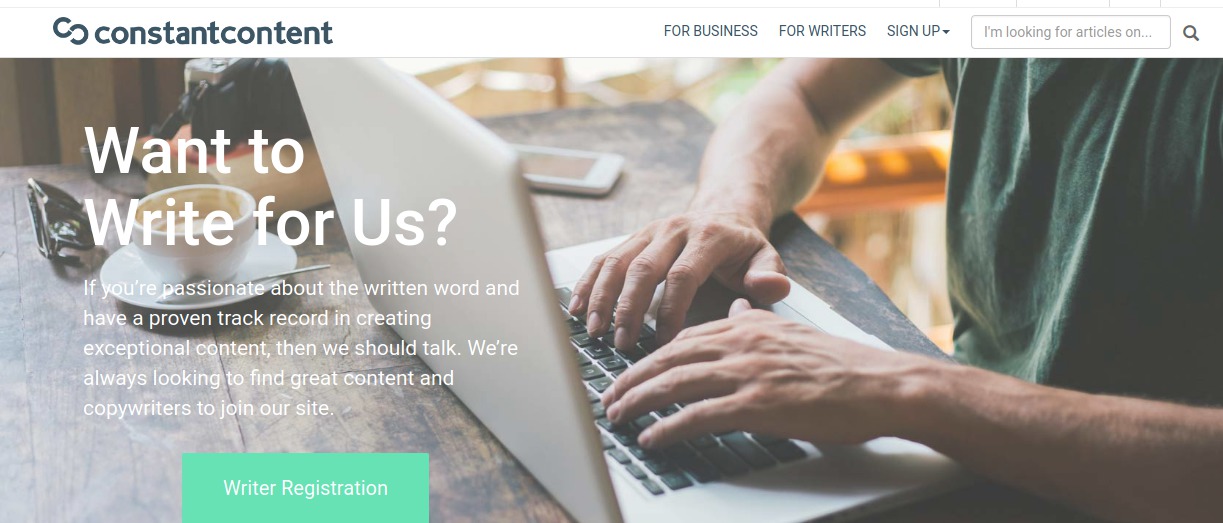 Constant Content offers tailor-made articles and ready-made articles to their clients. You can write your articles and sell them to Constant-Content or write for a specific client.
There are many job opportunities available for writers registered with Constant Content.
Read the writer FAQs for more information.
Join as a freelance writer here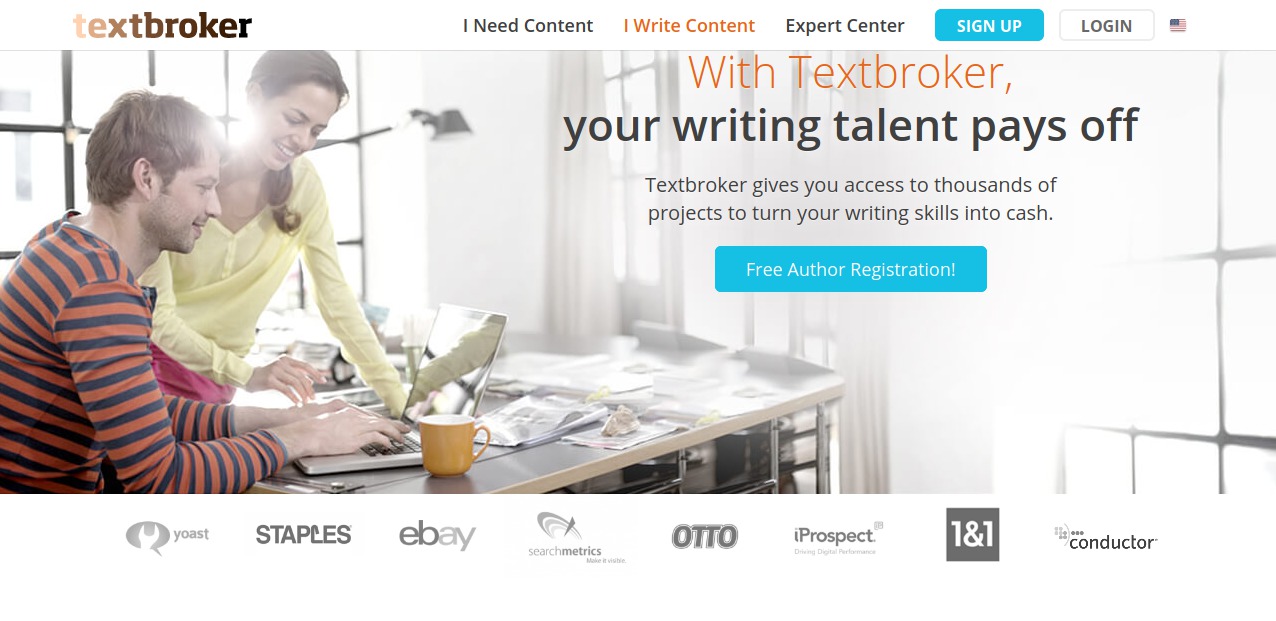 TextBroker has been providing custom content since 2005 to large corporations, small business owners, websites, social media communities, and publishing houses. They have created many writing opportunities for writers.
Check here for further information for the writers.
As a member of Guru, you can browse freelance jobs online and send your quote to get hired.
There are many job opportunity in various categories which includes
Programming & Development
Design & Art
Writing & Translation
Administrative & Secretarial
Business & Finance
Sales & Marketing
Engineering & Architecture
Legal
Education & Training
Find your job here.
Paid Guest Post
There are many newsletters, magazines, and websites looking for content. You can get paid for a guest post. This will be one payment per post.
Writing a paid guest post is a great option if you have great interest and experience in a particular field that you would like to share with others.
Check information for guest post here.
This is a magazine for writers, sharing tips to become better writers.
Check their submission guidelines here.
Check for guest blogging outlines here.
18. Freelance Mom
This site is great for moms interested in writing.
Check their guest post guidelines here.
Backpacker is a hiking magazine. If you love nature, camping and
hiking, this is for you. There are a few topics you can write for
Backpacker
Destinations
Personalities
Skills
Gears
Backpacker only assign web-only content to freelancers. Check here for more details.
This is a Homeschooling magazine.
They are looking for articles about homeschool challenge or any new
ideas for homeschool. Their purpose is to help others. If you are
knowledgeable in this idea, you will have the opportunity to write for
them.
Check here for guidelines.
SlickWP is a website focus on teaching others about WordPress.
EatingWell is a national food magazine that focus on eating healthy.
Read their writers' guidelines here.
This site is great for women writers.
Contact them for freelance writing job here.
Motherly is about motherhood and family. If you have tips and stories to share with others, this is a great place for you.
More information available here.
This site is about dogs. If you are dogs lover or trainer, you would like to share your experiences.
Check their guest posts here.
Conclusion
Now you have the above 25 places where you can find freelance writer job. When you have more experience, you can build a good resume and portfolio. You can even start your own freelancing business.
What you need to do is have your own website and promote yourself as writer in your field of expertise.