** UPDATE: As of November 1, 2021, Vindale has ceased operations. **
If you are looking to earn some extra money during your spare time, an easy option is doing surveys. There are many survey sites to choose from, some are legit and some are scams.
Is Vindale Research a legit site? Yes, it is legit.
Vindale Research is an online market research company. You can earn cash by completing surveys and studies. In this Vindale Research review, you will learn how you can earn money from it and decide if you want to give it a try.
Like many survey sites, you will not earn much from this, but you can definitely earn some money.
Vindale Research Review Summary
Company: Vindale Research
Website: www.vindale.com
Rank: 80 out of 100
Available: Residents in the United States, Canada, United Kingdom, and Australia.
Vindale Research is an online market research company. They have many paid online surveys on various topics such as sports, cars, toys, video games, home improvements, politics, and many more.
You get paid a small fee for sharing your opinion by doing surveys. Like most surveys, you will not earn a full-time income, but you can definitely earn some extra money.
There are better ways to earn a side income which we will look into it later on.
Now, let us look at Vindale Research and how it works.
What Is Vindale Research?
Vindale Research helps companies gather feedback and information regarding their products, services, and more. Those companies will then use the feedback and information collected from the public to improve their products and services.
Vindale Research charges a fee for compiling the information for their clients, and they paid you a small fee for completing the surveys.
Is Vindale Research A legit Company?
Yes, Vindale research is a legit company. You get paid for completing surveys and other tasks.
How To Make Money Doing Surveys with Vindale Research?
It is free to join Vindale Research. You get a $1 sign-up bonus. The money is credited to your Vindale Research account.
You will be asked to confirm your email. Once you confirm your email, you will get a notification of available surveys. You can start taking surveys and earn money.
Each survey is paid a different amount. For each survey, you will be asked to answer some questions to see if you are qualified. Some surveys are for certain demographics. If you fit into one of the many demographics, you will be qualified for many surveys.
If you are not qualified, the system will keep trying for you. You will be sure to qualify for some.
How Much Money Can You Make?
Vindale Research surveys pay between $0.25 to $50, depending on the length of the surveys and how many people qualified to do the survey.
How much money you can make will depend on how many surveys you are qualified for, and how much each survey pays.
There are many ways you can make money on Vindale Research
Paid Surveys/Studies
Panel Offers
Jobs Center
Reward Codes
Referral Program
1. Paid Surveys/Studies
There are many surveys/studies for members of Vindale Research. Each survey/studies pay a different amount depending on the length of the survey.
For example, Baby Food Study pays $10 for 35 minutes to complete, and Pet Survey will pay $1 for 10 minutes to complete.
2. Panel Offers
Vindale Research recommends other programs to offer more earning opportunities for their members. You can join all these programs to earn more money.
3. Jobs Center
Vindale Research has linked up with some jobs centers for full-time, part-time, and freelance opportunities in your locations.
4. Reward Codes
Vindale Research posts a contest from time to time. You can participate in these contests and win cash.
Reward Codes are posted on Vindale Research social media including Facebook and Twitter. Look for these reward codes and paste them onto the reward codes box to redeem cash.
The money will be credited to your account.

5. Referral Program
Refer friends and earn $5 per friend. When your friend sign-up and earn $1 doing a survey, you earn the referral fee of $5. You will be paid up to a maximum of 5 friends.
Your referral should not stay in the same household and share computers.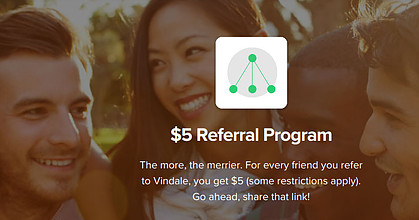 How Do You Get Pay
When you have accumulated $50, the minimum cash out in your account, you can request payment from Vindale Research.
You received your payment through your Paypal account. It is important that you have a PayPal account. There is no other way to receive your money.
Vindale Research Is Good For
People who want to earn some extra money during their spare time
People who enjoy sharing their opinion and feedback
People who have lots of free time as they are many surveys available
Pro & Cons of Vindale Research
Pros
Free to sign-up
$1 Sign-up bonus
Easy to use website
Many ways to earn money from this program
Earn cash and not points
Paid cash via PayPal
Cons
Qualifying questions for all surveys
Some surveys can be quite lengthy
It will take some time to earn $50 in order to cash out
Too many emails
Conclusion
Vindale Research has good reviews from its members, it is a well-established survey site that pays cash.
If you have lots of spare time using your computer or mobile, you will be able to earn some money from it. As we mentioned earlier, there are many surveys available and many ways to earn from Vindale Research.
Besides Vindale Research, there are other survey sites in which you can earn some money from doing surveys and other tasks.
Survey Junkie, Paid Viewpoint, Swagbucks and OneOpinion, are a few legitimate survey sites that pay for your opinion and feedback on various topics.
Doing surveys is one of the ways to earn extra money during your spare time. It is easy and does not require any experience. You will not earn much money or replace your income.
If you are serious about making lots of money that will one day replace your full-time income, there are better ways to do that.
I would like to recommend you to look at this online training where I learn to earn an online income working on my own flexible hours. The best part of this training is that it is free to get started and you will learn to build your own websites and how to earn money from your websites. You do not need any prior experience. You will learn and earn as you move forward with the training.
Do you think Vindale Research is right for you to earn some extra money? Have you tried any other survey sites?
If you have any questions about Vindale Research or questions about how to earn money online, please leave them in the comments below.