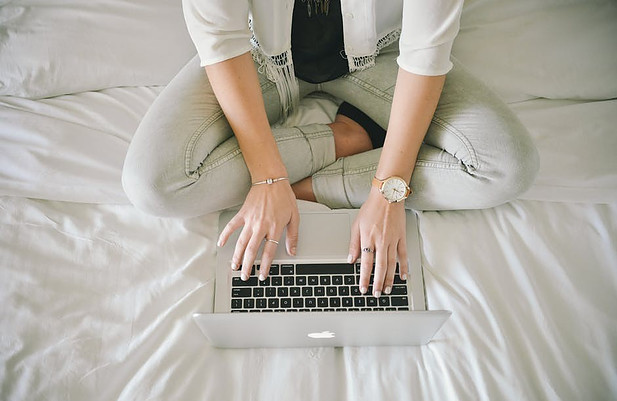 Blogging began as an easy internet activity that can be very much related to writing in diaries and a way of keeping journals. Making money blogging online is getting popular these days.
Why is blogging popular?
It is flexible and portable
It can make money
Keep up-to-date information for existing business
Helps to build trust with visitors to your site
How are bloggers making money blogging online?
Let us look at the 8 main income streams.
1. Affiliate Marketing
Affiliate Marketing is a popular method of monetizing blogs and websites.
As an affiliate marketer you promote or recommend other people's products on your website. If your visitor clicks on the product and make a purchase, you will earn a commission.
You're like acting as a middleman between your visitor and the merchant. There is no inventory and shipping to worry about. The merchant will be taking care of all these.
You Promote products or services —–> Customer clicks and purchase —–> Supplier made a sale —–> You earn commission from supplier
As an affiliate marketer, you can promote many items on your site.
Physical products – clothing, camera, computer, kitchen appliances, etc
Digital products – e-book, software, etc
Services – personal development, designs, writing, travel, etc
You can join many affiliate networks. Amazon, Shareasale, eBay are just a few of them.
Wondering how to be an affiliate marketer?
2. Advertising
You can make money from blogging by putting advertisement on your website. Google Adsense is one of the most popular online advertising company. When you signed up with Google Adsense, they will place advertisement on your site.
AdSense usually sends ads automatically to your website, This is usually based on several classes or criteria.
Contextual Targeting – It uses crawlers to scan the contents on your page, properly analyze, and provide ads that match your content. This is done by analyzing keywords, the frequency of words,
link structure and the size of the font written on your page.
Placement targeting – This enables marketers and those advertising to place their ads on certain places on your site. If your site matches the criteria of the advertiser, the ads will be displayed on your page.
Ads based on interests – It targets the interests of the users based on their previous interactions, such as visiting a web page.  Google's ad settings manager allows you to select your own interest categories, which will allow advertisers to better focus their campaigns. This way is used to get more money out of your website as it increases its essence to advertisers through the display of valid information. The ads are targeted to your contents via a small code that the AdSense program gives you to paste in the HTML of your blog.
AdSense is quite popular because it is easy to use. The more pages your blog has, the more advertising you can display. So if you choose this form of blog monetization, your primary focus needs to be on creating pages, on which you can display advertising.
3. Blog for others
If you enjoy blogging, you can do it for others as well.
Many businesses want to create and maintain a blog, but they don't have the staff to do this, so they hire professional bloggers. There are many online job sites which display listings of blog jobs, and these
jobs are often advertised on the Web's huge job hunting sites too.
4. Create and sell blogs
"Blog flipping" by creating and selling blogs has become popular over the past year. Many people want a blog, but they don't want to go through the hassle of creating one for themselves, so blog flippers create blogs to sell to them. If you're interested in this strategy, you can create several blogs in a week, and sell them all. This is a great way of making money.
5. Selling Ebooks
Selling ebooks can be a convenient way of making money online through blogging. This is because they are easy to write as well as produce. For someone who has been blogging for quite some time, they can collect their old blogs and turn them into chapters of a book. Once your book has been written you can then design its cover and then design a PDF for your Ebook.
6. Selling online courses
This is another great way of generating income online. These usually sell at a bigger price as compared to ebooks. You can ask for a premium price for offering your expertise service.
What will be required of you is to create the lessons for the courses you are offering as well as incorporate extra materials you are willing to include as downloads, checklist, templates, and slides.
You will also be required to make the decision on whether you are going to give support that is personalized for your course. There are sites which will offer two tiers of each course: one premium version that will have an email support and another basic version which will not have support.
7. Holding a paid webinar
Webinars are awesome ways of building your audience, offering avenues to share your experiences and being able to grow your business. They function the same way as online courses but the only difference is that webinars are live and includes a platform of a question and an answer. This is a great way of generating income online from blogging.
8. Guest Post
If your site has good traffic, you can advertise for guest post, which is offering someone to post an article on your site for a fee and link back to his or her site.
There you have 8 ways of making money online through blogging.
This is a perfect home business with little or no spending. It does not require any specialized skill and most of the people can learn it in a few hours having the right information.
A free blog can be set up in minutes. The most important thing is to help your visitors in providing them the information they are looking for.
You just need to know what people are searching for to be a successful blogger. Remember, the results you get are directly dependent on the efforts you put into your blog.
If you have any questions or comments about how to make money with blogging, please do not hesitate to leave them below.
I love to hear from you. ?