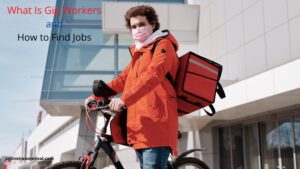 We always read about the gig economy and gig workers. The Bureau of Labor Statistics reported in 2017 that there are 55 million gig workers in the U.S. This accounts for approximately 34% of the U.S. workforce. This figure will increase to 43% in 2020. So, what is gig economy, what is gig workers and how gig workers find jobs?
What Is Gig Economy?
According to the Bureau of Labor Statistics, the gig economy is a workforce based on "single projects or tasks for which worker is hired, often through a digital marketplace, to work on-demand"
In the gig economy, companies tend to hire freelancer and independent contractors to complete a project. Many companies prefer to hire freelancers who are experts in their field to complete a project instead of hiring permanent staff.
Companies hire freelancers to do jobs that are not related to their industries, such as marketing, create websites, and content.
Companies will save on overheads on office space as the freelancers do not need to come into the office to work. This results in more flexibility for the companies and the freelancers.
Individual consumers will hire gig workers to do the task that they do not know how to do or no time to do. Hiring a gig worker is cheaper than hiring a company to do the job.
What Is Gig Worker?
According to Wikipedia, " Gig workers are independent contractors, online platform workers, contract firm workers, on-call workers, and temporary workers. Gig workers enter into formal agreements with on-demand companies to provide services to the company's clients"
Gig workers provide on-demand, freelance, contract, short term services to companies.
There are many jobs available for gig workers, which includes
Drivers
Handyman
Computer programming
Graphic design
Website design
Virtual assistance
Online tutor
Content creation
Consulting
Fitness Training and coaching
How To Be A Successful Online Gig Worker
1. Place
If you are working online, you might need a place where you can work without distraction. For many freelancers, they have a home office where they can work comfortably without interruption. For some jobs, you really need to have a workplace where you can concentrate and focus on your assignments.
For some easier assignments, you can work anywhere on your smartphone or laptop. If you are doing delivery to home or businesses, a smartphone is what you need.
2. Routine
Working on your own schedule, you have to be disciplined. Setting up a daily routine will help you get your job done on time.
Everybody sets their own routines. Meditation, praying, listening to music in the morning before work is common for many people.  Doing the most urgent tasks in the morning will make sure that your job will not behind time. You do not want your clients to go after you for the assignments.
3. Purpose
It can be quite different working on your own compare with working in a company with many co-workers. Besides the benefit of working on flexible hours, there are up and down moments.
Someday you might have too many assignments while someday you have to look for one.
You might feel bored working on your own without the workplace environment.
By having a purpose for freelancing, besides income and flexible hours, will help you move forward. For example, freelancing will enable you to have the time to take care of your family and earn an income at the same time. You will be able to choose to work with clients that need your expertise.
Pros and Cons as a Gig Worker
Pros
Freedom of time with flexible hours
Ability to work anywhere
Choose jobs that you are interested or good at
Improving skill sets by having the opportunity to do projects for multiple companies at the same time
Less worry about losing the job and income because you are earning income from different companies
Cons
No fixed income, no benefits like full-time staff
Need to always upgrade yourself to get new opportunities
No long term relationships between employers, workers, clients, and vendors
Due to working on flexible hours, you might need to work on weekends if you have assignments
Popular Places For Gig Workers To Find Jobs
Fiverr – Fiverr is an online platform for many job categories. You can sign up to offer your services. If you are interested, you can read about our review of Fiverr here.
TaskRabbit – Sign up with TaskRabbit and offer your services in running errands, personal assistant, shopping, moving, assembly furniture, and more.
Upwork – Upwork offers solutions to companies. Sign up to offer your services.
Freelancer – Sign up with Freelancer for job opportunities.
Thumbtack –  Signing up with Thumbtack for jobs that you set your own price.
Roadie – Roadie is basically a delivery company. Deliveries can be anything like grocery or drugstore pickup for customers.
Instacart – Instacart offer groceries shopping for customers
Uber – For Uber, you can sign up as an Uber driver for passengers or food deliveries.
How To Promote Yourself
Sign up with the online platforms including your portfolio
You have to create a niche that you have experience or passionate about
Promoting yourself with a personal website including your portfolio.
Conclusion
Gig economy has help companies grow with reducing overheads on hiring fulltime staff.  There are many job opportunities for gig workers.  With the advance of technology, many gig workers can work online and offline to earn income. This has helped many people who are normally not able to enter the job market due to care responsibilities, disability, an opportunity to work online.