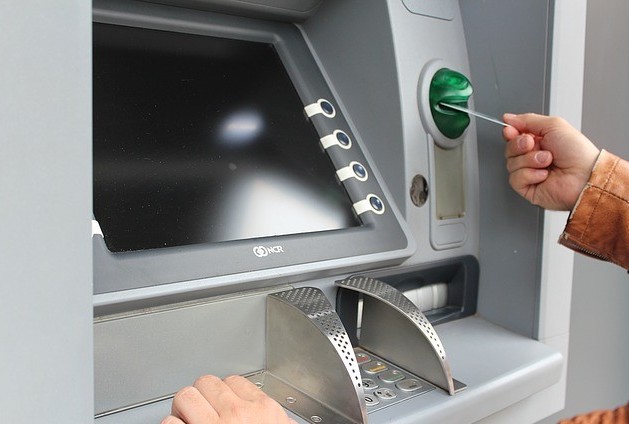 Welcome to my Website ATM review!
You have come across Website ATM and you want to know if this is a legit program.
This is a new site that said you can easily make $500 per day by just pushing a button.
It sounds too good to be true, right? Is this a scam or legit way to make $500 per day?
You make the right move by doing your research before spending your money on those products that promised to make fast money.
Will you be able to make money from Website ATM? Is it really a legit program or will it scam you?
Keep reading till the end to see how it works and if you can really make money from it.
The Website ATM Summary
Product Name: Website ATM
Website: Many of them
Founder: Unknown
Price: $47
Is Website ATM a Scam? YES
Recommended? NO
Tired of Scam……?
Best training program to make money online and it is FREE to join.
What Is Website ATM?
The Website ATM system claims to teach you how to make money with your website. The 'owner' of the website said that you'll get an 'all done for you website' when you purchased the system. You just need to push a button and you have money coming into your account.
Do you believe this? This is too good to be true.
Their website is currently at cmsystemstz.pw.
Why did I say currently?
Because many of this type of website disappear the next day and came out with a new website name and selling the same stuff.
The 'owner' of the website said that when you paid $47 for the system, you will be able to earn $500 per day on the same day you get started.
Do you think there is such an easy way to make $500 by just spending $47?
I don't think so!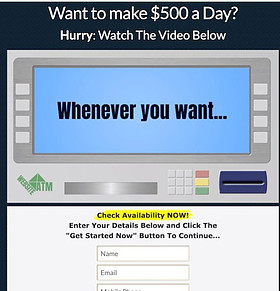 The Website ATM is similar to another Money Sucking Website. I have written a review on Money Sucking Website. If you compare these two websites, they are almost similar with a few changes. The image below is the one from Money Sucking Website.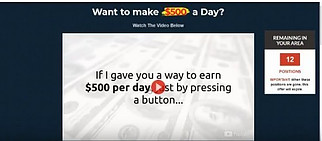 The owner of this type of website always changes the website name because of bad reviews. With the new website, he can continue to scam people's hard earn money.
For this type of websites, they also use scarcity tactics like there are limited spots available. If you want it, you have to act fast. In the actual case, their spots are unlimited. This is how they make lots of money.
Also, their testimonials are not real. They are not the real people making money from Website ATM. They are either paid actors from Fiverr or stock photos from photo sites.
Okay back to the Website ATM. I understand that it is very tempting to want to try the program that will bring you $500 to your accounts every day.
I will show you how this program works, and you can see for yourself why you will not make money from it.
How Does Website ATM Work?
It works by drawing your attention to their sales page, and then sell you a program that will not make you any money.
Typically, this type of program starts with a spam email, an advertisement or fake news articles. The fake news articles look like the legitimate new report. This actually is the sale funnel that leads you to the sales page.
Look at this image below, it is the fake news article from Instant Payday Trick.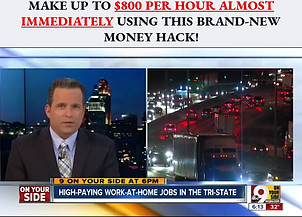 Once you are on the sales page, they want to get your name, phone number, and email before you can proceed to the next page. Even you do not make any purchase on the next page, they can sell your information to other unethical marketer who will sell your information too.
If you did purchase the program that they mentioned in the sales video. You get a done for you website which has already set up and supposed to start making money.
But, what you are getting is a website template that is similar for all the members who purchase the program. So, you are getting a duplicate site, which is quite impossible to make money.
What is worst is that they did not tell you that you will need to host your website in order to function. They will then ask you to sign up for an expensive web hosting. They earn a commission from the web hosting.
Now you see, you don't just pay $47 for signing up. You have to pay for upsells too.
If you are really interested in building an online business, you can build your own money making website with hosting for free even though you have no experience.
The whole concept of Website ATM is to do affiliate marketing. It involves selling other people's products and earn a commission.
In order to sell products and make money, you need to have visitors to your website. No visitor means no money.
Website ATM promised you a website but never train you how to get visitors. No matter how good is your website, if there is no visitor, you will not make any money.
The Pros and Cons of Website ATM
Pros
Cons
$47 is the initial fee, up sell for the expensive hosting fee
Done for you website does not make money
Testimonials are not real
Is Website ATM A Scam? My Final Opinion
The Website ATM is a scam and I do not recommend the program.
Even though they give you a website with some basic training, they up sell you the expensive hosting.
They do not teach you how to get visitors to your website. If no visitors to your website, it is impossible to make money.
There are many other legitimate programs that will help you in building your online business.

A Proven System To Build An Online Business

If you want to start an online business and not too sure if this is the right path to go, I want to share with you the proven system that I am using now to build my online business.
It offers free training, free websites and free supports. You can at least give yourself a chance to try the system to see if you want to proceed further.
==> Create Your Free Account Here
If you have any questions or comments about Website ATM, or you would like to know more about making money online, please do not hesitate to leave them below.
I love to hear from you. ?